Corporate Identity Design
The first brand element your company requires is a logo. A logo consists of either a word mark, or an icon, or both together. Both the word mark and the icon must each communicate the personality of your company through the use of colour, font, and symbology that is representative of who you are, your key brand attributes, and the benefit of your product or service to the consumer. Your logo should be meaningful, memorable, positive, ownable, and above all else, visual.
Once you have a logo, you need to use it in your various communications vehicles in order to get it into market. Your business card is the first logical step towards creating your corporate identity, and can be the first contact that a potential customer will have with your brand. You want that contact to be comfortable, as it will form a perception and expectation of the quality of the product or service that you are offering. In order to capitalize on the equity that you have in your new logo, your business cards, letterhead, and envelope must embody the attributes of the word mark and icon. In your corporate identity we will build on those attributes by adding a type treatment that should carry forward to all written communications, colour that will further define the personality of your business, a layout style for your correspondence, and the preferred positioning of elements in order to achieve a balanced and clean design. Developing your corporate identity takes your logo and puts it front and centre in your everyday business practices. We invite you to look critically at your current corporate identity to determine if it truly represents the attributes of your brand, and your business.
our latest identity design program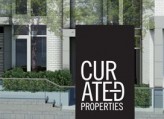 Curated Properties
Curated Properties Services Identity Design Program Coming soon… Visit Curated Properties online.