Jump celebrates the launch of Roberts Signs & Awnings all-new website
25, Jan. 2013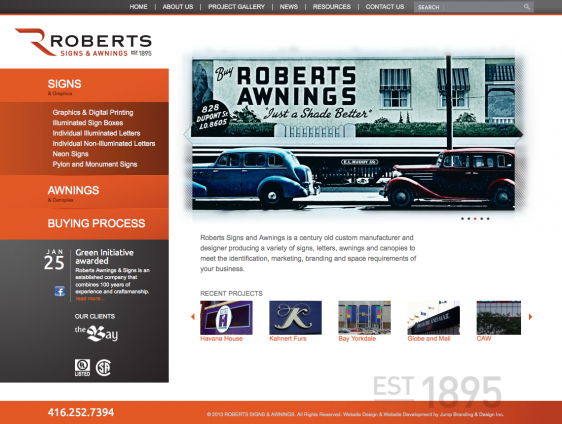 Roberts Signs & Awnings is backed by 115 years of business excellence. The vendor of choice for The Hudson's Bay Company, Loblaws and The Gap (just to name a few), Roberts came to Jump with a vision of redesigning their brand image and website to increase visibility and generate new business leads.
We first set out in establishing a new logo and corporate identity reflecting Roberts' proud heritage, use of state-of-the-art technology, and artisan craftsmanship. The resulting design offers an updated vision of the Roberts brand with clean, contemporary typography and a subtly stylized supporting logo communicating the brand's defining strength, innovation and customization.
Jump also outfitted Roberts with an all-new strategically driven online architecture. The new website offers a crisp, aesthetically pleasing vision of the company and an intuitive navigational structure. The stylish design aligns with the taste of the target market and supports the new branded position.
The homepage opens with sliding visuals that engage viewers in the brand's finished projects and what goes into their manufacturing. The stylized images add online personality and emphasize the quality of their work, educating clients on the process, heritage and portfolio that underscores Roberts leadership role in the industry.
Functionally, the site is built with a custom Content Management System (CMS) that allows them to update site content and add new postings internally, providing current and potential clients with the most-up-to-date brand information. A left-hand drop down menu display directs the various service categories creating an easy and centralized on-site navigation. An interactive word map of the business process incorporates to outline the mission of the organization and bring a sense of creativity that is inherent within the Roberts framework. The new site also features additional brand information, resources and contact information at the top of each page and a gallery of finished projects running along the bottom to highlight the scope of the company's portfolio.
The website launched at the end of 2012, offering a smart new online vision of the Roberts brand. The site is sure to provide the foundation to reach new business leads in the years to come, extending the credibility of Roberts work and professional image.
For more on Jump's work on the web, shift gears over to our recent launch of  Cliplight Manufacturing's performance-driven redesigned site.