Jump & Sustainable Design
29, Jan. 2013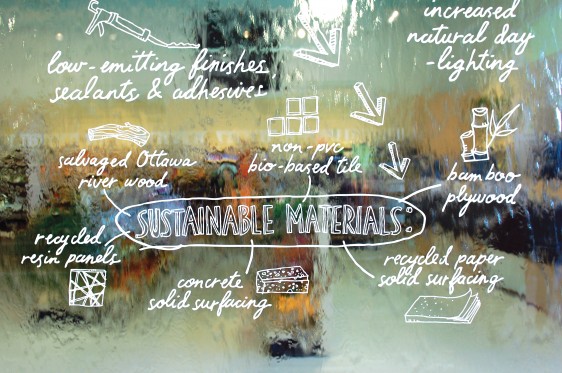 Interior and environmental design has reached a point where great spaces must be more than just visually appealing. They must be designed and must operate with a conscience. With every design project, Jump looks to uncover innovative solutions and possibilities in sustainable design without ever sacrificing the design aesthetic. Elevating brand integrity and maximizing the spatial experience, we continue to focus on the design and construction of healthy, beautiful spaces that position our clients in leadership roles – both within their industries and the communities in which they operate.
As designers, we understand that by pushing forward greener thinking we are also able to reach our clients' strategic goals of operating more efficiently and do so cost-effectively. By searching for and utilizing sustainable products and alternative specifications we are able to diminish each project's environmental impact and optimize operational performance, (in some cases lowering energy costs by up to two-thirds). Jump subscribes to the principles stipulated by LEED® in guiding better design approaches towards sustainable development, water efficiency, energy efficiency, material selection and indoor environmental health quality and construction management. When possible, we look to specify local products, source Energy Star rated equipment and harness natural resources.
When it comes to investing in sustainable design practices, consumer transparency is critical. For the design of terra20, North America's largest one stop eco-store, we incorporated educational messaging throughout. For example, "building a better store starts with a better footprint" highlights on a customized Waterwall feature at the entry of the store. Illustrating the innovative uses of recyclable store fixtures, LED lighting, No-VOC paints, enhanced ventilation, low-flow fixtures, and increased day lighting among other sustainable features, the Waterwall exemplifies the importance of opening the consumer mind to thoughtful practices that may otherwise go unnoticed.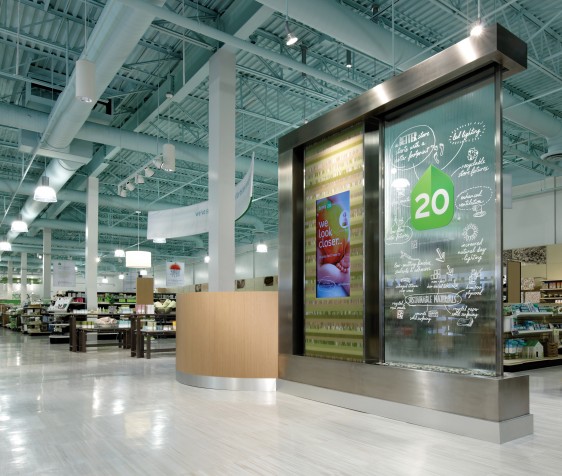 Watch terra20 co-founders on CTV Morning Live interview featuring the interior of the store and the sustainable idea behind the concept.
We look to provide our clients responsible designs and a competitive advantage in the market as well as immediately measurable operational paybacks. Jump has created memorable, leading sustainable design programs for an array of industries. In 2011, we received an Innovation in Energy Award at the annual A.R.E. Sustainability Awards for South St. Burger Co. Shops at Don Mills. The following year, Jump was acknowledged with two of the ceremony's biggest honours, the 2012 Grand Prize – Tenant Improvement and the 2012 Project of the Year for South St. Burger Co.'s LEED® – certified Bayview Village location. In 2013, we were awarded our second consecutive Grand Prize – Tenant Improvement in the Sustainability category for terra20 from A.R.E. For Cadillac Fairview, one of North America's largest commercial real estate holders, Jump has developed and continues to roll-out a hugely successful communications campaign surrounding their Occupant Engagement Program (OEP). Designed to encourage more sustainable workplace habits, the multi-phase campaign began in Toronto's TD Centre before moving inside other major Cadillac Fairview holdings.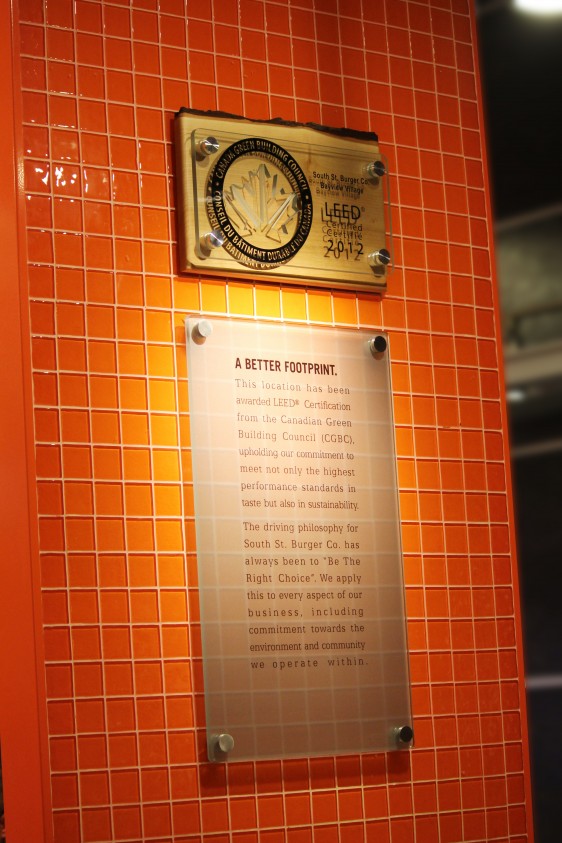 Jump is committed to reaching levels of sustainable design that align with our clients' beliefs and exceed expectations. In ensuring a sustainable mindset remains integrated within Jump's framework, President Eric Boulden maintains LEED® Green Associate status. Applying this evolving skill set to every job that comes through our studio, he leads our team of like-minded designers in Jump's continually growing portfolio of truly responsible designs. Whether certification is a goal or not, let's discuss the benefits of achieving your strategic design goals through sustainable means.