After all the cups are gone, Yogen Früz opens a new flagship in Malaysia
23, Jan. 2013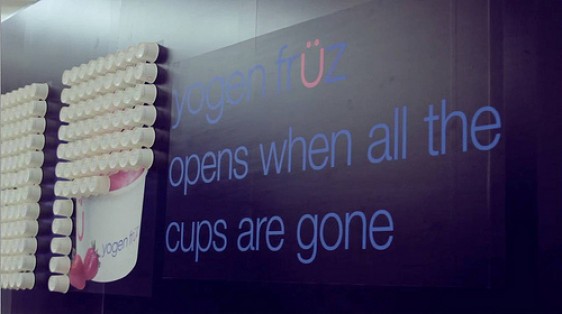 For the launch of Yogen Früz's new flagship location in Malaysia, Lowe created an interactive hoarding campaign around the partly-constructed concession to generate buzz. The installation was constructed prior to the November 28th opening from 2,000 serving cups that each offered a 50% discount on any Yogen Früz flavour. The campaign invited passersby to grab one from the wall and bring it back on the day of the opening to redeem their discount. The opening was also promised to only take place once all the cups were gone.
As evident from the video posted by Yogen Früz, the promotion was a huge success with the launch of the store drawing huge crowds queuing up in anticipation. Jump's redesign of the Yogen Früz brand and retail environments continues to drive expansion forward, with our design tenets and brand standards guiding the construction and roll out of each location around the globe. With the overwhelming success of the launch, Yogen Früz plans on adopting this unique campaign for the launch of future locations in the Malaysian market.
Check out the video below to see how Yogen Früz made the day for local shoppers and see how Jump has created delicious brands of all sizes with our branding programs for Elm Hill Cookies and Yogurty's.