BentoZushi opens Sun Life Centre Store
25, Mar. 2009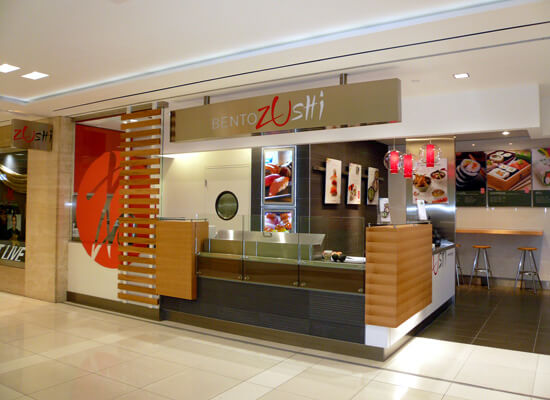 We are proud to announce the opening of a new BentoZushi store, this one in the Sun Life Centre in the heart of the Toronto Financial District. We are particularly excited about this opening, as it is a new and improved BentoZushi that comes to the Sun Life Centre; the result of a concerted effort by both our team here at Jump and the team from Bento Nouveau to build a stronger BentoZushi brand.
The Sun Life Centre BentoZushi is only the second inline store (the rest being kiosks), and also provides seating for customers. We've added menuboards and photography, including some mouthwatering sushi shots that are sure to tantalize taste buds and encourage trial. The sushi chef is now front and centre, lending authenticity, personality and freshness to the concept. We've upgraded the food presentation, improved the salads, and included some exciting new product lines. All of this combines to deliver a better brand experience to existing BentoZushi customers, and bring the taste and experience of BentoZushi to even more sushi-lovers.
The Sun Life Centre BentoZushi brings the total number of stores to 11, as it joins the Galeries d'Anjou and Fairview Pointe-Claire in Quebec, Hawthorne Center and Fox Valley Center in Chicago, Scotia Centre in Calgary, Walden Galleria in Buffalo, Stone Road Mall in Guelph, Bramalea City Centre, RBC Plaza and Water Park Place in Toronto.