Via Cibo makes cover story with debut in series by Foodservice & Hospitality
07, Feb. 2014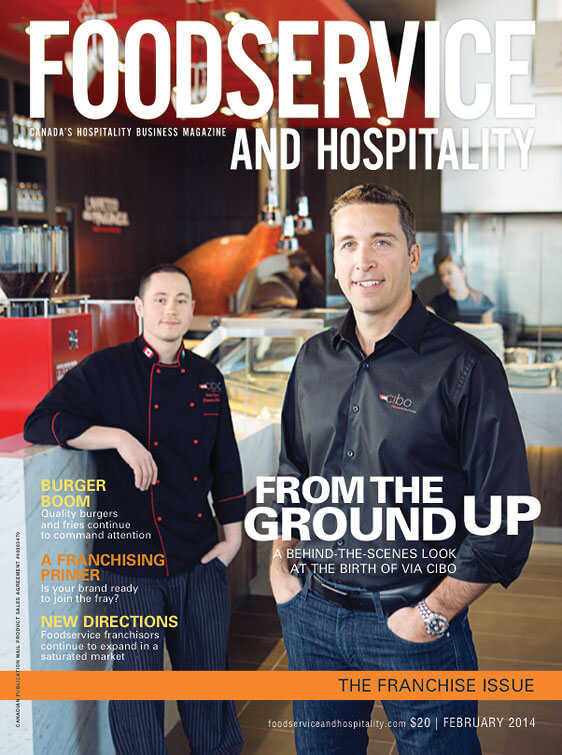 Jump would like to congratulate Via Cibo on making the cover story of the February 2014 issue of Foodservice & Hospitality, Canada's hospitality business magazine.
In the debut of a new series that deals with the ins and outs of entrepreneurs who have opened restaurants in recent months, called, From the Ground Up, Foodservice & Hospitality interviewed Via Cibo owner and restaurateur, Alex Rechichi, who discusses his latest endeavour into a, "fast-casual category […] relatively untapped in Canada." Inspired by Italian street food, Alex identified an opportunity to, "deliver a recognized food category with a new service model that delivers premium food offerings at a fast pace." And in just a few short months, Via Cibo has proven to be a huge success, opening its second location in Calgary this past January, with more locations on the way.
The consumer reaction in Calgary has been nothing short of incredible, and we look forward to seeing the brand grow to new regions and cities throughout Canada and further. We're very proud to have been a part of the Via Cibo brand from the very beginning, and look forward to seeing Via Cibo grow as a brand that consumers love.
Be sure to read the rest of Alex's insightful interview with Foodservice & Hospitality at:
https://www.foodserviceandhospitality.com/MagazinesHotelier/0214-FoodserviceHospitality.pdf