Cliplight Manufacturing relaunches with an updated look and all-new website
30, Oct. 2012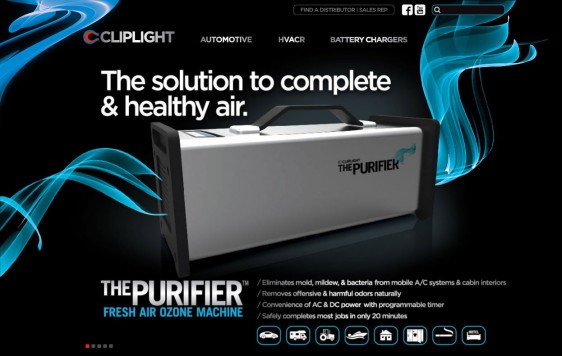 For more than 35 years Cliplight Manufacturing has led the industry with their lines of internationally respected automotive, HVAC and battery charger products. Cliplight recently engaged Jump to give their brand an updated look that would better support their innovative products. Beginning with the design of their logo, packaging, and product brochures, Jump created modern, sleek visuals that deliver an appropriately eye-catching extension of their innovative product lines.
In supporting the new brand positioning, Jump also undertook a complete redesign of the Cliplight website. The new site is built to emulate the brand's premium positioning and core attributes as well as to ensure a consistent consumer experience across all touch points.
In the design of the site, updated visuals reflect the new Cliplight brand architecture. A series of contemporary, performance-infused graphics and a black glossy, matte backdrop give Cliplight the perfect online presence to showcase their best-of, technologically advanced products.
Changes to the functionality were also undertaken to give the brand a website that is now not only full standards compliant but that also has a content management system (CMS) that gives the Cliplight team control. Throughout the development process, Jump ensured that the company would have a website they would be able to manage and modify without ever risking sacrifices to the design and layout.
The redesigned site now allows Cliplight to produce rotating ads and feature them on the homepage and category landing pages. Similarly, they are able to modify the site banners, news and testimonials. Customized layouts for the various category pages allows the brand to control the products highlighted while an array of download options have been incorporated to allow the display of everything from MSDS sheets and patent lists to photo libraries and links to case studies and installation tutorials.
With the redesign, Jump delivers Cliplight a level of sophistication in their branded look indicative of their product excellence, bringing together their diverse product portfolio and various marketing platforms.
Speed on over to the all-new Cliplight website to freshen up on their exceptional range of products and check out some of Jump's other web design and development projects.