Mobile platforms offer restaurants a new way to grab consumer interest
10, Oct. 2012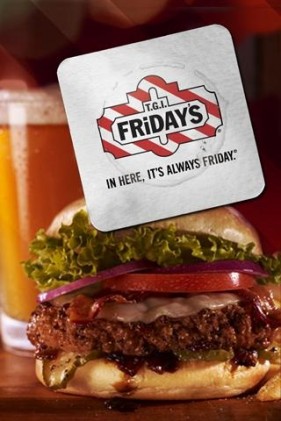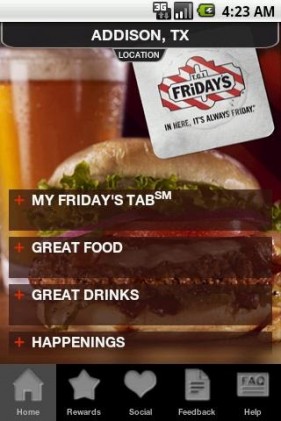 Image source: T.G.I.Friday's
Where should we eat tonight? What do you feel like? What's good? When it comes to answering these questions and searching for the next place to grab a bite, restaurant patrons have begun to more frequently turn to their mobile devices. Even more striking, 90% of users look to convert their mobile search into a restaurant visit by the end of the day. According to Nation's Restaurant News (NRN), the mobile food service market has grown so large separate strategies are required by brands in order to target each user segment. Usage patterns, a recent report has discovered, differ noticeably for mobile web browsers or apps on smartphones and tablets. In the case of smartphones, in searching for restaurants the majority of users are looking to satisfy their immediate needs by looking for restaurants within close vicinities. Similarly, 60% of these restaurant guests begin their search without a specific location or brand in mind. Tablet users, on the other hand, tend to place less emphasis on the immediacy of their restaurant visit, and are more likely at home instead of already on-the-go.
In deciphering between mobile app and browser users, the results show that apps tend to get more user engagement. While this is integral in fostering brand loyalty and interacting with target consumers, a proprietary app is also a considerable investment. Still, the proliferation of apps in the restaurant marketplace has been significantly on the rise. NRN has also examined this trend, and uncovered that the growth in app adoption is being driven by improvements in their functionality, not reduced development costs. Market leaders T.G.I.Friday's and Jersey Mike's Subs recently spoke with the publication about the benefits of investing in the technology and how it makes sense for their brands.
T.G.I.Friday's is the first casual-dining chain to offer a smartphone application that allows guests to start a tab, track it on their device and close it out without a waiter. The My Friday's App, developed by Tabbedout, first rolled out in April. "As far as price goes, it wasn't an economical decision," explains Friday's VP of Brand Marketing Shannon Gewinner. The decision to implement the app for the chain really came down to advances in the platform's functional capabilities. "With a restaurant, there wasn't a compelling reason to download one unless you do on-the-go ordering and it comes alive once you go into the restaurant", Gewinner continues. "We wanted to give consumers something new and exciting and something very, very, useful that they could use everyday". The My Friday's App has already been downloaded by 250 000 people since launching, illustrating the engagement possible from incorporating a functional mobile app into the consumer dining experience.
This July Friday's also successfully integrated the app into its 'Give me More Stripes' loyalty program, allowing customers to manage their loyalty accounts through their phones. Jersey Mike's Subs took a similar position when they revamped their own loyalty program back in May, complete with a proprietary smartphone app. As Chief Marketing Officer Rich Hope explains, "everything in tech seems to come down to time". While Hope admits the investment is considerable, "certain people love apps and technology so the app for them is the way to go".
From a branding standpoint, mobile platforms offer a huge opportunity to target consumers, new and returning, as well as improve brand integrity by utilizing the technology to elevate your brand in consumer mindsets. The tech-savvy millennial generation, in particular, increasingly rely on mobile apps in their consumer decision-making process. In a survey by venturebeat.com, almost 75% of millennials who own a smartphone also report transacting on their mobile devices. Similarly, 63% of women and 73% of men in this demographic said they don't go an hour without checking their smartphones. Quite simply, in order to target all possible consumer touch points in the restaurant experience, mobile apps need to be added to the equation. Forecasts from this summer found that 9 out of 10 operators said their restaurant would likely be active on Facebook with the use of Twitter and smartphone applications also expected to rise. This once more underscores the importance of integrating these forms of new media and technology into the dining experience. If an app is developed properly, targeting consumers with its functionality, it is more than worth the investment for companies now despite the fact cost remains high.
Overall, fostering tangible brand loyalty takes time, and involves combining platforms, personalizing the experience and creating associations of prestige and innovation towards your brand. Mobile platforms, and apps in particular, with their current functional capabilities, offer a huge pay-off in elevating your brand in each of these categories.