Haute Cuisine at Bayview Village! Jump designs South St. Burger Co.'s latest store.
25, Nov. 2011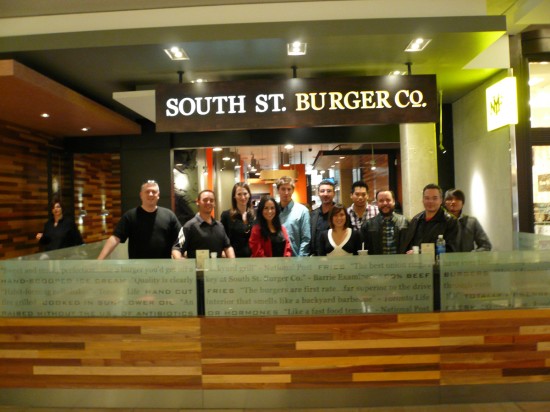 The team from Jump visited our latest store design for South St. Burger Co. for lunch. Apart from having the tastiest and juiciest burgers out there, South St. has continued along the path of being "The Right Choice" as a brand and retail store/restaurant. Our latest design dubbed the "Haute Cuisine" concept aligns with the Bayview Village Fashionista image. We have taken the brand and continued to move it upscale through design, material, finishes and details.
Hot on the heels of winning an A.R.E. Sustainability Award for Innovation in Energy for the Shops at Don Mills location, South St. and Jump Branding & Design set out to make their first mall location different and with purpose. The natural progression to apply for LEED® Certification helps to validate the great environmental and energy efficiencies already developed within the restaurant design program. South St. prides itself in the high standards that they are placing on themselves for producing the best burger with the best ingredients but also adhering to standards to build the best environments and on-going restaurant systems.
Along with a great meal, customers can expect:
70 per cent less water than baseline standards in the Energy Policy Act
93 per cent of equipment is ENERGY STAR rated
32 per cent of all construction materials were manufactured regionally
38 per cent recycled content in all construction materials
85 per cent Forest Stewardship Council (FSC) certified wood
In addition to its green initiatives, this location will also be the first South St. Burger Co. unit licensed to serve beer and wine, starting in December. Seating 55 guests, the new location will continue to offer burger lovers the top-quality meals they've come to expect from South St. Burger Co.