Jump Launches BrandStandards.ca!
12, Sep. 2009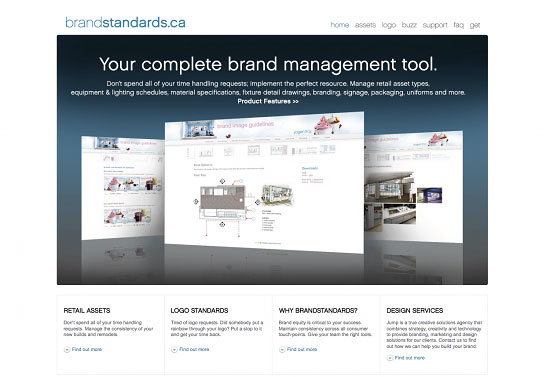 We are proud to announce the official launch of our Online Standards Guide, BrandStandards.ca. Some of our most fortunate clients have already been working with us as we have developed this tool that should bring an end to the printed standards binder; they are already experiencing the freedom from having to struggle to manage their brand development resources amongst suppliers, vendors, and franchisees.
BrandStandards.ca is the portal to two exciting new products: the first, LogoStandards, is aimed at providing an online tool for any business struggling to maintain consistency and support an array of vendors who require access to your brand resources; the second, and arguably more exciting, is AssetStandards, which is designed for expanding retail store owners and Franchisors to efficiently and cost-effectively allow them to provide the tools and resources their franchisees need to maintain brand consistency at the retail level. Gone are the massive binders of retail asset drawings, schedules, and specifications, replaced instead by an online resource that allows your team to access up-to-date files – anytime, from anywhere.
We think you'll agree that BrandStandards.ca offers you a better way to manage your brand! Call us to find out how we can help you put either LogoStandards or AssetStandards to work for your business.