Jump offers pro golf tips at your fingertips with the all-new Golf Pocket Pro App
26, Jun. 2012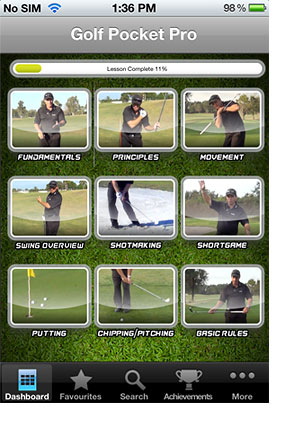 Tweak your swing, become a smarter golfer and lower your scores – all your answers are only a click away.
Jump is proud to announce the launch of the Golf Pocket Pro iPhone App, available now at the iTunes App Store. The perfect tool for practice and play, the Pocket Pro offers professional golf instruction in the convenience of your back pocket. Take your golf game to the next level with comprehensive video instruction from PGA of America Master Professional and Peak Performance Golf School Founder Greg Coffin.
Offering 260+ video references, the Golf Pocket Pro App will give you the confidence to master every shot opportunity no matter your level of play. The features of this app cover swing fundamentals, swing principles, movement, swing overview, shot-making, short game, putting, chipping/pitching and basic rules and tailors to your current skill level. Whether you decide to work through each lesson on the practice range or simply need a quick reference while out on the course, the app will deliver results by thoroughly tackling every facet of your golf game.
The Golf Pocket Pro App includes the added option of making on-screen notes and tracking your favourite lessons in order to cater to your personal progress and targets. Greg makes the game of golf easy to understand through straightforward commentary and visual analysis. Work through the lessons and earn the recognition of the pros with achievements rewarded upon the completion of each targeted category.
To purchase, swing on over to the iTunes App Store or the Peak Performance Golf Apps Golf Pocket Pro App page and gain instantaneous instruction at your fingertips. Be sure to also check out the Golf Stats Tracker Pro App to better understand the scoring habits of your golf game.