Maleta Wine Sparkles Gold!
11, May. 2009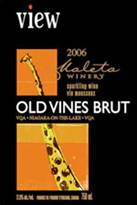 Wow…hot on the heels of our Gold and Silver medals at the Canadian Franchising Association Awards last week, Maleta Wineries (one of our earliest clients) has won a Gold medal for their sparkling wine.
"Building on the success of the inaugural 2005 vintage, our 2006 VIEW OLD VINES BRUT sparkling wine was awarded GOLD at the Ontario Wine Awards gala on May 8. This follows the recent second-place finish at Cuvée 2009 and SILVER at the Canadian Wine Awards." (excerpt from the Maleta Winery Summer 2009 newsletter)
While we can't take credit for making such great wine, we are always excited about our clients' successes, and very proud of our association with Maleta. We would like to congratulate them on their most recent awards, and wish them all the best with their new vintages.