South St. Burger Co. opens in Dubai
23, Aug. 2012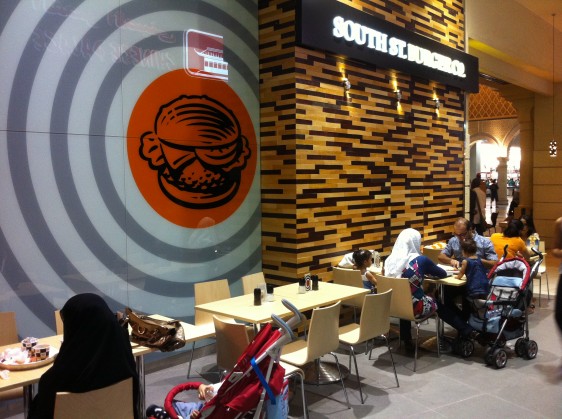 This past Friday marked the opening of South St. Burger Co.'s first overseas location in Dubai's Ibn Battuta Mall. The Ontario based chain has plans for further expansion in the region with a restaurant in Jumeirah set to open later this year and plans to launch in other Arabian Gulf countries to follow in the near future.
Since launching in 2005, South St. Burger Co. has been a leader in the fast-casual dining category. Jump has worked with South St. from the beginning in the creation and evolution of their brand that remains dedicated to 'burgers made well'. The company has gone even more gourmet with their selection of premium toppings and unique relishes and mustards available at each location. Similarly, South St. has taken the initiative to elevate their environmental spaces to reflect their superior product and cooking standards. The news of the Dubai opening marks the second recent achievement for the company, as their Bayview Village location has just been officially LEED Certified by the Canadian Green Building Council (CaGBC). This marks the first time a burger chain in Ontario has received this designation.
If you're hungry for more South St., be sure to check out the latest news on their website, and get your fill of Jump's branding programs, including our work with South St. Burger Co.