Cully & Sully Packaging by The Brand Union
03, Mar. 2009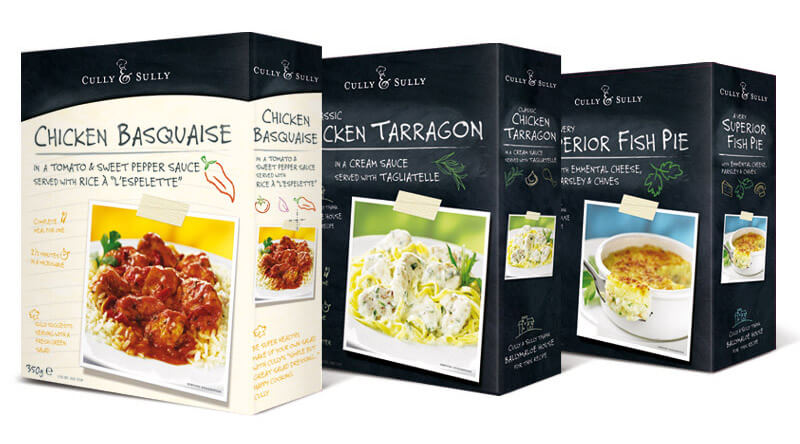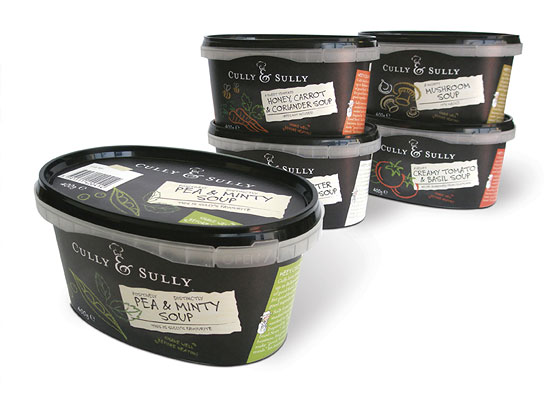 This packaging by The Brand Union conveys the mood of the fun and enjoyment that goes into a great home cooked meal. It is whimsical, but looks delicious. The snapshot of the final meal feels like a personal way to show what the end meal will look like. They expanded the offering to a line of resealable fresh soups with an emphasis on fresh ingredients.
Due to changing consumer purchasing and eating patterns there was significant opportunity in the Irish ready meals sector for delicious, nutritious and enjoyable meal solutions. Young entrepreneurs Colum O'Sullivan (Sully) along with Cullen Allen (Cully) from Ballymaloe House set about developing a range of gourmet ready-to-cook meals to target this category which is estimated as growing at 13% per year.
Our initial challenge was to create a brand proposition, name, identity and packaging design for the new range. It was important that Colum and Cullen's passionate food credentials were communicated to the customer so that they would trust the products. The brand also had to be a fun and quirky experience and convey the founders' youthfulness. At the same time food is a serious business, so the brand could not be too whimsical.
The Brand Union developed the brand by focusing on the personalities of owners, Colum and Cullen, and the fun they have selecting ingredients, recipes and preparing meals. We worked closely with them in developing the market positioning, brand personality and brand name.
Following the success of the ready meals range Cully & Sully asked us to create packaging for a range of fresh soups that would differentiate them in a very competitive category.
The creative team built a unique look-and-feel based on the duo's personalities and passion for good food. The accessible, homely and friendly packaging style re-emphasises the authenticity of the fresh ingredients and delicious flavours of the brand. Real food values are reflected through the blackboard menu idea which was unlike any other ready meals packaging on the market. This allowed Cully & Sully to have a friendly and informal voice to the consumer on their packs, while their brandmark reflected a serious attitude towards real food.
We created hand-drawn sketches which along with on-pack personal recommendations from Cully & Sully speak directly to the consumer.
The ready meals range was successfully launched in September 2004 and Cully & Sully now have 2.1% of the Irish ready meal market (Europanel June 2006). In October 2006 a range of soups was added which took an unprecedented 15% market share in Musgrave SuperValu Centra stores after just three weeks.
As seen on The Dieline