Design of South St. Burger Co.'s Bayview Village location yields Jump "Sustainable Project of the Year"
09, Mar. 2012
On February 29th in Las Vegas, Jump Branding & Design Inc. captured two A.R.E. (Association for Retail Environments) Sustainability Awards for their design of the
South St. Burger Co. at Bayview Village in Toronto (Ontario, Canada). The coveted 2012 Sustainable Project of the Year and the 2012 Grand Prize Tenant Improvement awards.
The A.R.E. Sustainability Awards is the only competition focused on sustainable retail design, honoring retail projects for outstanding green building achievement. The competition draws entries from around the world. Entries are judged on innovation in design, integration, and benchmarks, and the highest honors go to projects that balance comprehensive sustainability with design aesthetic and functionality. Winning projects of the A.R.E. Awards were located in the U.S., Canada, Mexico, the U.K., France, Germany, Italy, the Netherlands, Austria, and India.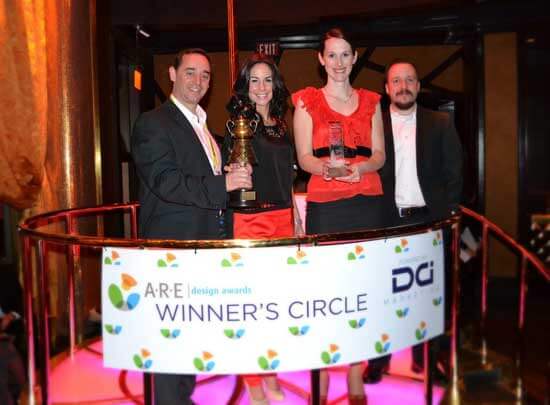 Gourmet Burger meets 'Haute Couture'
Bayview Village is one of Canada's most prestigious shopping centres. Catering to discerning, affluent customers, Bayview Village has distinguished itself as the premier destination for all things 'Haute Couture' in an upscale environment featuring one-of-a-kind and luxury retailers. The South St. brand, already known for its "Better Beef, Better Burgers" motto, needed to align their burger concept with a mall known to attract shoppers with discerning taste. It required a 'Better' fast-casual dining experience and a design with a conscience.
On the heels of capturing an 'Innovation in Energy 2011 Sustainability Award' from A.R.E. for South St.'s "Urban Concept", the goal for the Bayview Village concept would be LEED Certification to validate and highlight all the sustainable initiatives that have been baked into the concept, namely: reduce energy consumption and optimize energy performance, continue to source 'best of' equipment and those with an 'Energy Star' rating, reduce water consumption, reduce construction waste by diverting all recyclable materials to recycling facilities and minimize on-site cutting etc. to divert from landfills, on-site construction management plan to control contaminants from entering HVAC during construction, choose regionally manufactured and extracted materials where possible, choose products with recycled content where favoured, use 85% LED lighting throughout the space, use 100% of energy from sustainable sources, use Low and No VOC paints and sealants, use FSC certified wood, use wood composite products & adhesives with no Urea-Formaldehyde, increase ventilation to the space, reduce CO2 emissions by ensuring no CFC equipment to be used.
The energy or waste reduction initiatives provided a two to five year ROI. Although the initial cost was more, projected operational savings made the decisions viable. The reduction in CO2 emissions, water consumption, natural gas, construction debris and materials made it the "Right" solution for the design. Further development of the brand meant that the critical brand elements and materials would be introduced in a new way with materials that reflect the brand and provide an enhanced aesthetic design appeal for this mall environment. Jump wanted to ensure that new materials sourced, as well as the construction practices, adhered to meet this sustainable mandate. The reclaimed wood provides warmth, while the black metal wall panels and oversized textured, graffitied Italian tiles provide a sleek New York urban image. New fashion decor graphics depict the brand's cheeky humor and relate back to the burger category with a couture image.
Innovative features offer not only environmental benefits, but also operational savings, without sacrificing design aesthetics to achieve sustainability. This eatery evolves the brand in its first mall concept to an upscale fast-casual restaurant catering to discerning, affluent shoppers. Through all the sustainable measures taken prior to and during construction, this project has received formal LEED Certification from the CaGBC.