Fresh Thinking and a Weekend Makeover at Freshwest Grill
10, Dec. 2013
Over the first weekend of December, Freshwest Grill underwent a store makeover at the TD Centre Food Hall. Freshwest Grill specializes in California style burritos that are made to order using only the freshest, locally-sourced ingredients, including select cuts of chicken and steak, flame grilled to perfection. The idea behind Freshwest Grill is simple: bring the unique fusion of the spices and flavours of the Southwest, with a passion for quality, to a Canadian market.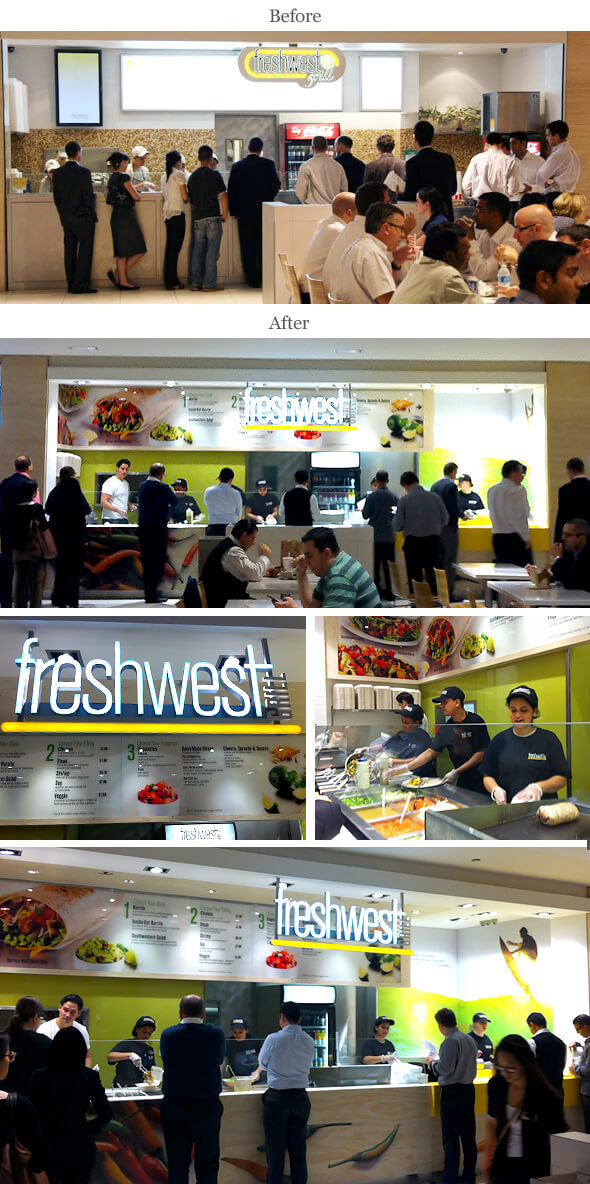 Aligning with Freshwest Grill's mantra, "fresh thinking", Jump Branding & Design developed an architectural brand personality that captures the ambience of the West Coast Californian persona. The chili pepper photography, on the front face of the counter, is printed on plywood, providing an authentic, weathered appearance that becomes a signature element of the brand. The surfer graphic reinforces the brand's association with West Coast culture and expresses the fun and energetic atmosphere that Freshwest Grill strives for. This is balanced by yellow-green back painted glass that replaces the previous brown-tiled back wall and brightens up the space with fresh new look. The Freshwest Grill sign/logo was simplified with an emphasis on lighting that provides a clean, modern expression of the brandmark.
The new menu board provides strong appetite appeal and establishes a connection with food court browsers. Rear-illuminated LED panels increase the menu's visibility and prominence. The clean, white backdrop helps to highlight the ingredient and product photography, and sharpen the menu text. The menu system is framed into whitewashed, weathered plywood. Additional LED lighting was placed in the servery to illuminate the topping display on the counter. All of this contributes to an enhanced customer experience.
The lineups at Freshwest Grill on the first day after the weekend makeover are evidence of consumer acceptance to the change and renovation. The new Jump design has reinvigorated the restaurant space and is sure to attract an even bigger following. For more information on Freshwest Grill, check out their Jump-designed and developed website: https://www.freshwestgrill.com/