Jump's Elm Hill Cookies Retail Design featured in Retail Spaces: Small Stores No. 2
17, Sep. 2013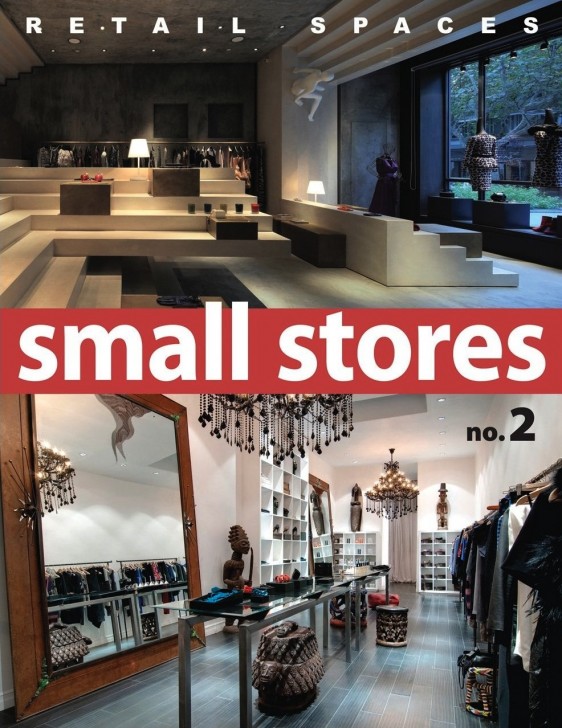 The second volume of Retail Spaces: Small Stores from RDI Media has been released and includes Jump's design of Oakville Ontario's Elm Hill Cookies.  Retail Spaces: Small Stores No. 2 builds on the  success of the first edition and features 56 of the newest and most innovative small stores.  This edition takes readers around the world, from North America and Europe to India, China, Australia and South America.  Retailers featured include ALDO, Mattel and Mossimo.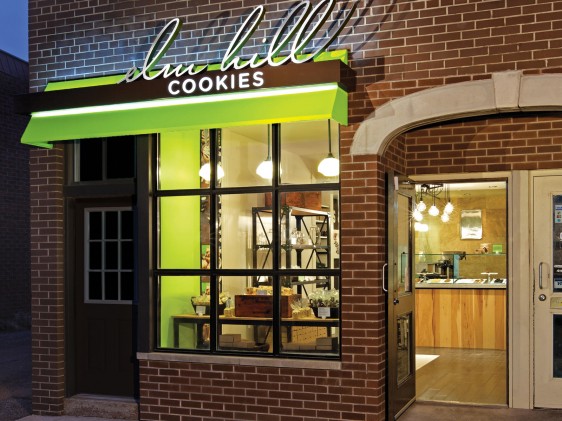 The Front Exterior of Oakville's Elm Hill Cookies
Our design of Elm Hill Cookies uses the essence of tradition with a contemporary twist to modernize the idea of the cookie.  "No Corners Cut" is the guiding principle of the brand, reflecting not only the product's square shape and its high quality ingredients, but also the design and build of their first retail store.
The Elm Hill interior captures an old world heritage and charm and combines it with a modern aesthetic.  A collection of antique displays, lighting fixtures and found items are utilized in tandem with clean lines and rich materials to project the sole – and delicious – product throughout and enhance the customer experience.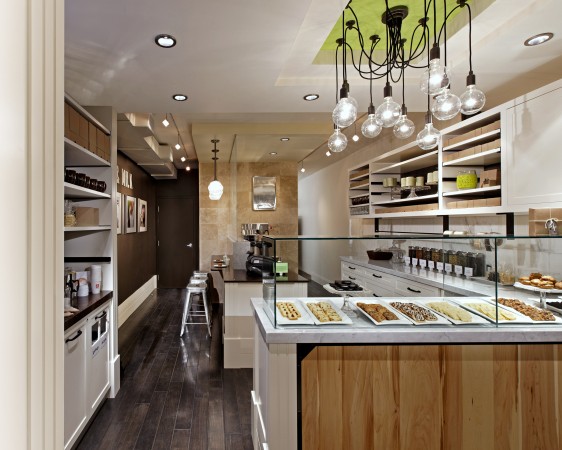 Interior of Elm Hill Cookies
We brought back nostalgic traditions such as a cookies and milk parlour counter and integrated Elm Hill's signature square shape into the cabinetry detailing, millwork, the bulkhead details and stone tiles.  Menu boards are made from actual cookie sheets and the store's philosophy is proudly displayed on a hang-tag graphic.  The store's rich colour palette of chocolate brown, crisp white and soft beige was inspired by the ingredients of the cookies and the product itself.
Have a craving for something sweet? Well we can guarantee Elm Hill's cookies taste as delicious as their store looks! Head on over to their Kerr Street location in Oakville for a bite!
Purchase your copy of Retail Spaces: Small Stores No. 2 here.