Jump celebrates the arrival of our Davey Award for the Golf Stats Tracker Pro
30, Nov. 2012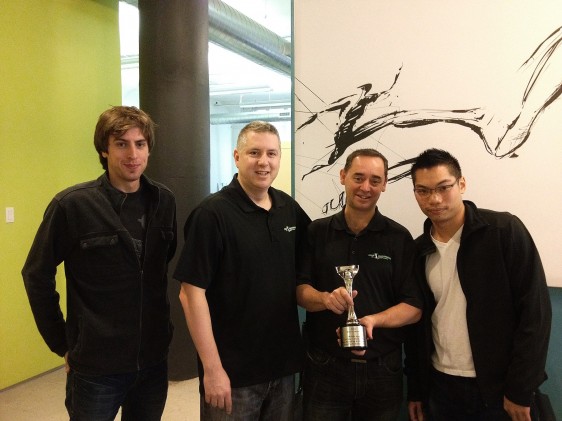 The Dream Team: Designer Andrew Vysick, Strategic Director Jason Hemsworth, President Eric Boulden, and Developer Arthur Chu along with the latest addition to our office.
Christmas came a little early this morning at Jump with a Davey Award arriving under our tree. The honour comes for our iPhone Golf Stats Tracker Pro Mobile App, which is even more exciting considering it was Jump's first foray into the world of mobile app development.
The Davey Awards is the largest design awards competition exclusively for small firms, or the 'Davids' of the industry as they call them. Judging is based on the strength of ideas and creativity displayed, rather than stratospheric budgets.
Our (now awarding-winning) iPhone Golf Stats Tracker Pro provides users on-going analysis to track, understand and improve their golf game. The app features an intuitive, easy-to-use design and engaging, interactive course visuals. Available for download, the Golf Stats Tracker Pro is the perfect opportunity for golfers of all playing abilities to improve their hitting tendencies and lower their scores.
Want stay on par next time you hit the links? We're here to help. Jump on over to the iTunes Store already and get your swing in check with the Golf Stats Tracker Pro and our latest development the Golf Pocket Pro. If golf isn't your thing but apps and online developments are, take some time to have a look at more of the work from our (currently gloating)  Web Design & Development team.