What HootSuite is all about and understanding how to best use it for your business
23, Jul. 2012
HootSuite is currently regarded as one of the best, if not the best, third party tool for managing social media channels like Twitter, Facebook, Linkedin, Google+ and Foursquare. Its services are already being utilized by major, industry-leading corporations such as McDonalds, PepsiCo. and Sony Music.
So what is so great about HootSuite? Why have over four million users all around the world embraced the service? The answer is quite simple, HootSuite simplifies the process of tracking news and content, monitoring the conversation about your product, service and target keywords, and tracking the levels of engagement across the social media channels mentioned above.
To create your account, simply add your username and password and connect HootSuite with the social media channels you'd like to manage. In my case, I initially added my Twitter account. HootSuite, by default, displays four columns of information feeds – Home Feed, Mention, Direct Message and Sent Tweets. You can add a column to display your new tweets, as well as ones to display the tweets from particular users, tweets that pertain to specific keywords or keyword phrases, and tweets from specific lists on your account. The service makes it very easy to monitor the topic that you are targeting as it presents all the applicable tweets at once.
Under the Publisher tab, you can schedule your tweets for certain dates or times in the day. This is particularly useful when you have followers that live in different timezones as even when you are asleep, you are up on Twitter. The ability to schedule your tweets allows you to post at times when people in far away places are online and active on their Twitter account.
Can you use HootSuite to monitor conversations? Absolutely! You can add as many columns as your computer screen can accommodate. If you are looking to monitor who is talking about your company, just add a new column to the default options by clicking "+ Add Stream" and type in the name of your company in either the "search" or "keywords" box.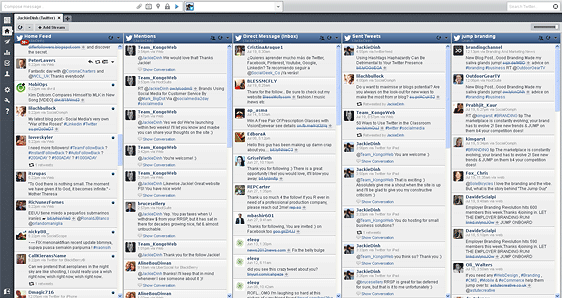 Under the "Analytics" tab you will find more functions that track engagement statistics for your social media channels. You will be able to build a custom report by choosing from the provided four templates. The report can be saved online and accessed anytime after it is created, (or can be exported as a PDF or in CVS format). This gives you more flexibility when creating a report on your social media efforts.
Hootsuite comes in two versions, a free one and a Pro/Enterprise version that is a cost-service. The free version allows you to have up to five social media accounts, more than enough for most companies today. The Pro/Enterprise version does, however, offer better reports and RSS Feeds and is better suited for companies that require more than one person to monitor their social media channels.
It you're short on time and want to start using HootSuite quickly and effectively please contact us at ac.hgihwoh@aidem.