International Retail Design Conference (IRDC) 2014 – Day 3
08, Sep. 2014
With the conference scheduled to end at noon, there was a lot of ground to cover on Day 3.
In the morning, Jason and Eric attended a set of Power Track sessions where each group contained 3 topics of discussion to be covered within an hour and a half. The overarching theme was Timely Retail.
In 'Beyond the Monitor: Merging Digital/ Physical Experiences', Chute Gerdeman and AKQA/ Verizon discussed the emergence of retailers finding it necessary to integrate physical and digital experiences in their stores. Moreover, it was vital to show how technology could add value to the consumers' lives and tell the brand's story at the same time.
Functional, mobile design has been the drivers of success for PUMA. In 'Swiss Army Knife: Creating Puma Stores Without Permanent Parts', we learned about multi-purpose and mass-producible pieces that we easy to assemble, set-up, and move around without compromising a brand's appeal. It definitely showed how products (and its parts) could be functional and transportable – -all while being able to retain the 'cool' factor for a brand. In the future, one could see traditional brick – and -mortar stores 'pop-up' on the streets and interact with the consumer.
Lastly, in ' New Eating Habits, New Retail Opportunities', Jump Branding and Design Inc. could relate to many of the trends Little, a design firm, cited when they opened a new fast- casual Italian themed restaurant. Like we did with Veloce and Via Cibo, we were reminded of the many factors we considered before introducing healthy and quick Italian food to consumers. Things such as attitude, schedules, eating habits, and a focus on wellness have lead to fast-casuals becoming more popular in the market. By blending the best elements from both worlds, it is apparent that consumers don't have to sacrifice time, health, comfort, and price to eat delicious meals.
Our closing keynote address came from Lee Peterson (Executive Vice President, Creative Services at WD Partners) who shared his insights on consumers and combining online and in-store shopping. He informed us that people prefer to shop online and don't mind delaying the instant gratification one gets from shopping in-store because they are "frustrated with the way stores blatantly waste their time". One way stores have remedied this is to offer Buy Online Pickup In Store (BOPIS). Lee says that doing this will help these stores compete with online retailers like Amazon. He goes onto to say that retailers must provide social experiences for its consumers or face losing them. Also another finding: "the mindset of the Storeless Generation is different." Lee says that these people grew up with chain stores that imposed 'burdens of fulfillment' on them. They want unique experiences and for shopping to be a social event but instead, stores have made it a miserable one. They must win back this generation by providing them with meaningful interactions that add value to their lives. Peterson says that BOPIS is a short-term solution that fulfills a functional need. However, in the long run, stores must find better ways to stay relevant; they must be places for escape, experience, and inspiration.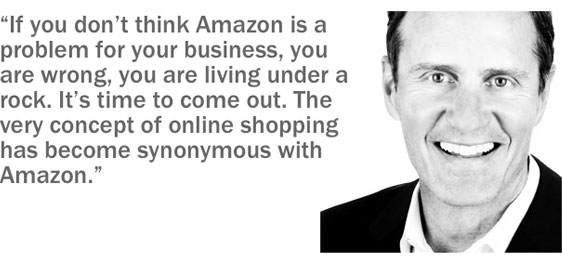 With that last memorable address, we close out IRDC 2014. It's been 3 days of premier education, networking, and fun!
See you in Austin, Texas for next year's conference #IRDC2015!