Jump Environmental Designer Melissa Zurfluh receives her NCIDQ Certification
22, Jun. 2012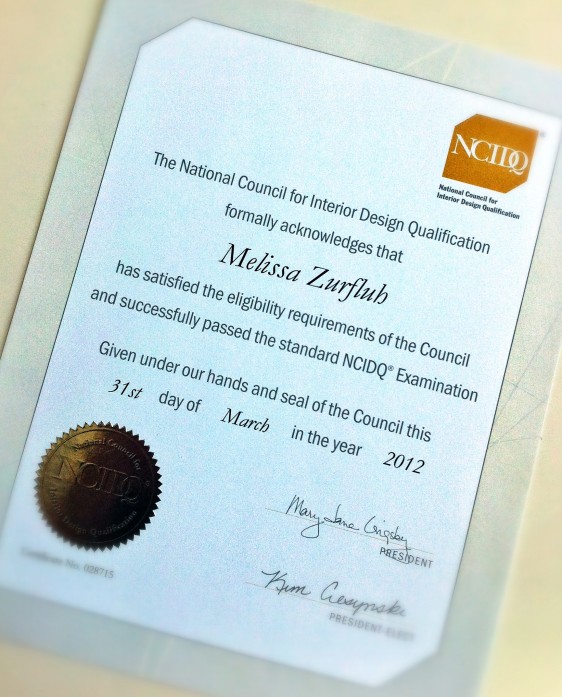 Jump's own Melissa Zurfluh is now a NCIDQ Certificate holder. After months of study and preparation, Melissa took her National Council for Interior Designers Qualification exam and successfully joined their ranks. The NCIDQ is the credential of choice for interior designers and requires the equivalent of six years of specialized education and experience in the interior design field. Melissa received her Interior Design Advanced Diploma from Sheridan College and is an integral member of the award-winning Environmental Design team at Jump.
Administered over two full days, the NCIDQ exclusively looks at aspects of the practice of interior design that affect public health, safety and welfare. Holding certification distinguishes designers who have demonstrated the skill-set needed to ensure that the public's interest, along with all regulatory requirements, are upheld in their design approach.
Split into three sections, the exam tests knowledge of building systems, codes, construction standards, contract administration, design application, professional practices and project co-ordination – mixing standardized questions with practicum exercises. Candidates must manually produce several design solutions in the third section, adhering to set programmatic requirements and demonstrating skillful interpretation and analysis of various design approaches and systems.
Based on an evolving analysis of the industry, the NCIDQ serves as the prerequisite for eventually joining The Association of Registered Interior Designers of Ontario (ARIDO), which is required for professionally and legally titling yourself an 'Interior Designer'. A huge congratulations from all of us at Jump goes out to Melissa in her continued success and growth in the interior design field!
Learn more about the NCIDQ by checking out their website. Melissa has been involved in almost every retail project Jump has taken on in the last four years. Highlights of her work include environmental designs for South St. Burger, Yogen Fruz, Extreme Pita, Elm Hill Cookies, Z-teca and Robin's Egg Pink.