Jump launches Freshwest Grill's new website
31, May. 2013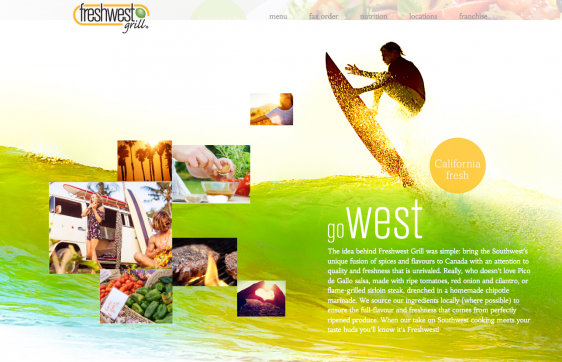 Freshwest Grill recently launched an all-new Jump designed and developed website. Currently with two locations in the heart of Toronto's downtown core, Freshwest Grill offers a unique fusion of Southwest flavours from a made-to-order menu. Previously, Freshwest's website predominantly consisted of basic menu and location information. Jump's site brings new dimension to the brand online following a lively, bright visual presentation that communicates the freshness and southwest flavours that have driven the concept's success. The site has been built with a parallax scrolling effect to create an exciting, engaging browsing experience that easily directs visitors through all key brand elements. This effect is achieved using multiple backgrounds that move at different speeds to create the illusion of 3D. Once all the different elements are in place, a seamless navigation down the page is achieved with the frames integrating together. A fun, concise viewer experience results, allowing users to gain a full understanding of Freshwest without having to navigate to different pages. You can watch as the food is prepared, from the dicing of tomatoes down to finished burritos, bowls and salads before learning more about the Freshwest story and what makes their menu and ethics so unique in the market.
A casual and contemporary eat-in and dine-out destination, Freshwest Grill has become a go-to for busy professionals who frequent Toronto's PATH network. Not your typical QSR, the brand sources ingredients locally, prepares homemade dressings from scratch with no artificial fillers or additives, and everything on the menu is made-to-order. They are also committed to being a leader in environmental and sustainable practices within the food services industry.
Suddenly feeling hungry? Click on over to the Freshwest Grill website for more on their southwest fare. If you're in the mood for something sweet, Jump also recently launched a fresh new site for Yogen Früz.