South St. Burger launches line-up of Signature Burgers – Built Just Right
17, Jun. 2013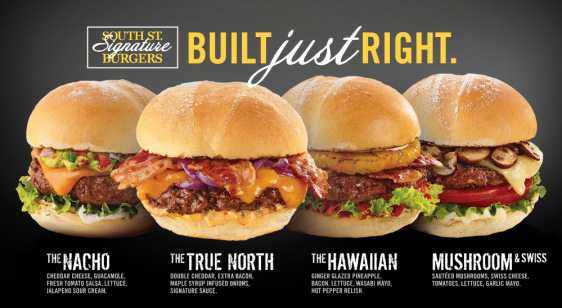 South St. Burger has added a line-up of 4 Signature Burgers to their menu.  After a highly successful trial at select locations, The True North, Hawaiian, Nacho and Mushroom & Swiss Burgers are now available at all South St. restaurants.
Jump has been the agency of record since the inception of the South St. brand, working with them every step of the way in the growth and development of their better burger chain.  The new burgers, which you can droll over online, use gourmet and unique ingredients that will surprise and delight.
The True North is more Canadian than a beaver smothered in gravy with freshly prepared maple syrup infused onions, extra bacon and South St. signature sauce.  The Hawaiian delivers the sweet heat of island living with ginger glazed pineapple, wasabi mayo and pepper radish.  The Nacho packs flavours you'd expect rolled up in a tortilla featuring freshly diced tomato salsa, guacamole and jalapeno sour cream – Muy Caliente!  And break out the lederhosen for the hole-y taste of The Mushroom & Swiss with its freshly sautéed mushrooms topped generously with gourmet Swiss cheese.
Until now the South St. concept has been built on customization by offering 35 gourmet condiments.  While this provides guests with endless combination opportunities, it adds the risk of overloading and ending up with a less than perfectly topped burger.  The Signature Burgers are chef-inspired and 'built just right' to take the guesswork out of ordering.
South St.'s 'better burgers' are made using flame-grilled 100% pure, fresh Angus beef patties containing no added hormones or antibiotics.  Delicious sides include fresh famous New York Fries and a variety of NYF poutines, hand-made onion rings and milkshakes. O'Dough's gluten-free buns are available for all burgers.  South St. also offers veggie and grilled chicken burger options along with  premium grilled all-beef hot dogs that contain no added hormones, antibiotics, sodium nitrates, fillers or by-products.
South St. Burger is constantly expanding, check online for the location closest to you and be on the lookout for future store openings.  For more on our work with South St., including creating better restaurant spaces for their better burgers, check out our branding, environmental and sustainable design case studies for the brand.