My first trip to GlobalShop and the A.R.E. Design Awards
08, May. 2013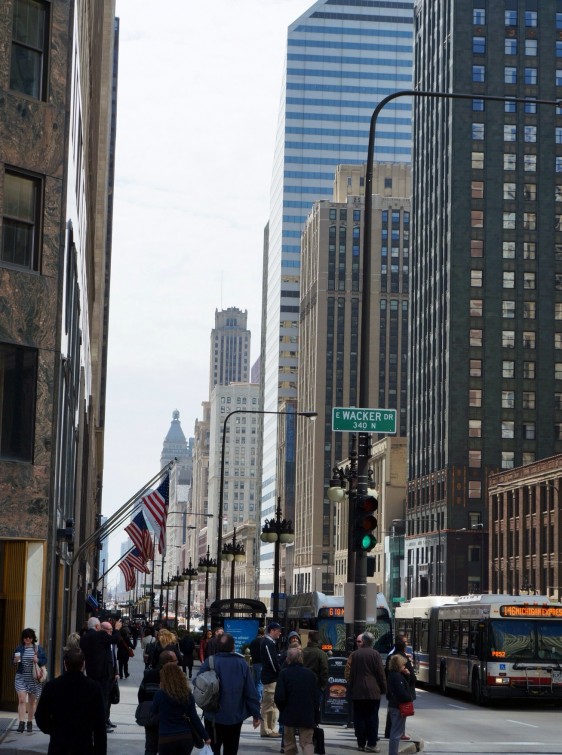 As part of the terra20 project team, I got the opportunity to head down to Chicago last month for the A.R.E. Design Awards where Jump was up for a Sustainability Prize. I've been to Chicago before, but never had the chance to explore the city – and what a beautiful city it is! Chicago is filled with such a vibrant culture, rich history and amazing architecture and retail spaces. The skyline is a gorgeous mix of gothic and modern buildings separated by the famous movable bridges over the Chicago River.
During our stay we were able to wander through the downtown core, including a trip to The Magnificent Mile down Michigan Avenue. Every store we passed was incredible. Almost every imaginable major brand has a flagship location here. The obvious time, innovation and money spent on some of the spaces, particularly the AT&T and Nike stores, was incredible. In the newly opened Starbucks flagship at the corner of Oak and Rush, the space has been designed to be both sustainable and relevant to the city. Reclaimed boxcar wood has been specified for the cladding throughout along with locally sourced brick and coffee storytelling messages with local connections. The level of local relevance makes it the most unique, not to mention memorable, Starbucks I have ever come across.
After we were done taking in the sights, we headed to the A.R.E. Design Awards ceremony. It was my first A.R.E. event and was made all the more exciting when we were called on stage to collect the Grand Prize – Sustainability! We celebrated in style afterwards with an amazing dinner at The Chicago Cut Steakhouse.
This trip also marked my first visit to GlobalShop. Even though it's dubbed as the largest tradeshow in North America, I was still surprised by the sheer scale of it. It took all day just to walk from end to end and I still don't think I saw everything. I did get a chance to meet with tons of suppliers though and learned about some really interesting products and niche companies that I normally wouldn't come across. I can't wait for opportunities to incorporate them into new concepts. It was really exciting to see so many suppliers and companies connecting to promote retail design products and services. The show is a really great resource for our industry in its support of store design and successful branding.
The speaking sessions I attended similarly gave me a ton of new information about the industry, especially new trends in branding, marketing and advertising. Herb Sorensen's seminar that focused on the power of habit and the subconscious in purchasing habits was particularly enlightening. As Sorensen highlighted, shoppers don't want to be in a store longer than they need to be, and will spend more when they feel it is convenient. Spaces should therefore play up the convenience and habitual nature of the consumer experience in order to maximize returns.
My brief trip to Chicago was amazing. I got so much out of it both professionally and personally and can't wait for future travel chances to see more inspiring spaces and immerse myself in the retail industry.
 More on the A.R.E. Design Awards.