Jump relaunches Yogen Früz online
03, May. 2013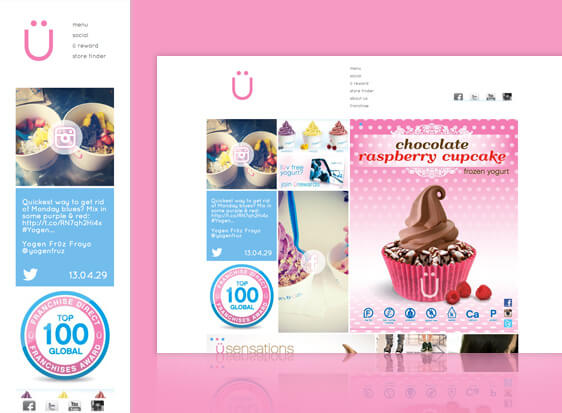 This past week, Yogen Früz's website was relaunched. The new site brings all brand content and information into one easily navigable location. Yogen Früz has a strong focus on interacting with the communities in which they operate, so it was important to integrate this into the new site design.
The homepage offers portals into the latest on Yogen Früz's social media platforms, promoting engagement across Twitter, Facebook, and Instagram and providing a hub for the brand's content online. The feeds automatically refresh to showcase the newest posts, constantly keeping viewers engaged. The latest flavours, promotions and community activities also update constantly to keep up on the latest with Yogen Früz. The new site also communicates store locations, menu items, the Yogen Früz Ü rewards program and franchise opportunities, which are all essential to the 1,300 unit strong brand.
Using a content management system as the platform, Jump developed the site to accommodate both design and function. The light, fresh visual treatment conforms harmoniously with the core guilt-free Yogen Früz message and gives the site a clean, contemporary impression that matches other brand consumer touchpoints. The partially responsive homepage and menu is adaptable to varying screen formats, allowing accessibility on mobile and tablet devices.
Yogen Früz remains the world's leading frozen yogurt franchise. Operating in over the 35 countries, the company continues the tradition of providing customers with a healthy alternative to fast food that's great tasting and nutritious – perfect for today's healthy and active lifestyle.
Fancying some froyo? It's starting to heat up out there! Visit Yogen Früz online for the store closest to you and have a taste of more of our work with the brand.