Boutique Cookie Shop "no corners cut"
27, Jan. 2011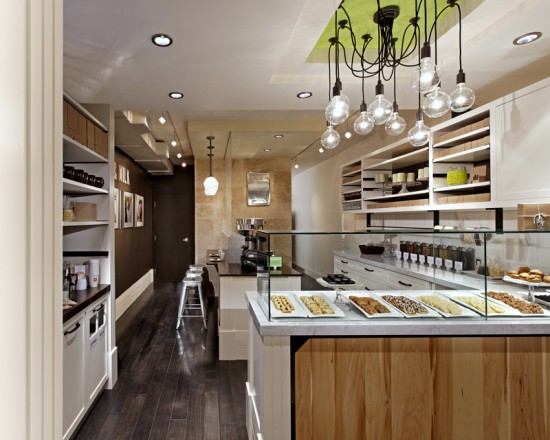 Elm Hill Cookies is a new boutique retail concept selling delectable, gourmet cookies located in Oakville, Canada. The Bakery's philosophy of "no corners cut", is not only reflected in the unique square shape of their cookies but also in the high quality, all-natural ingredients that are used in the creation.
Elm Hill engaged Jump to help build the brand and the retail environment from the ground up. The Elm Hill logo was designed with a simplicity and elegance that enabled it to bridge the styles of classic and contemporary. The brand name and retail concept were inspired by the beautiful cobbled stone lane located in Norwich, England that acquired its name from the elm trees that stood in the square since the 16th century. The store interior captures this old world heritage and charm and combines it with a modern aesthetic. A collection of antique displays, lighting fixtures and found treasures were utilized in tandem with clean lines and rich materials selections such as white carrera marble, elm wood and travertine limestone.
We brought back nostalgic traditions such as a 'cookie and milk' parlour counter and integrated Elm Hill's signature square shape into the cabinetry detailing, millwork, the bulkhead details and stone tiles. The stores rich colour palette of chocolate brown, crisp white and soft beige was inspired by the ingredients of the cookies and product itself. Overall, the environment was designed to reflect their contemporary twist on the classic baked treat.
With the store now open in Oakville, Janis Smith, the entrepreneurial owner of Elm Hill Cookies is looking forward to sharing her 'dream made reality' with the public. You can also visit www.elmhillcookies.com