Jump is proud to announce the opening of Via Cibo Italian Street Food
15, Jul. 2013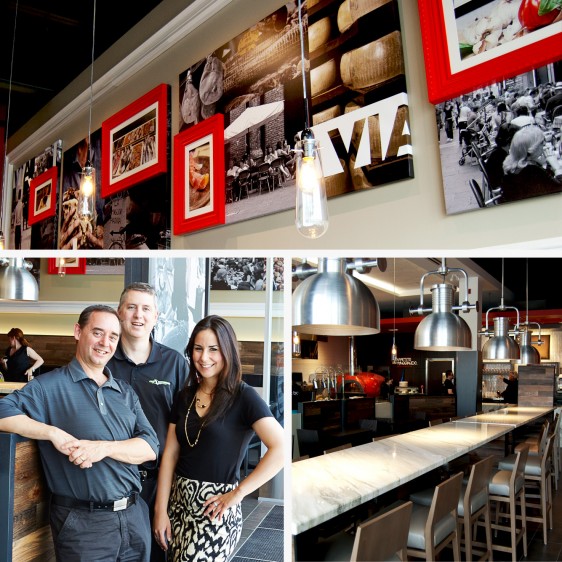 Extreme Brandz, the company responsible for Extreme Pita, Mucho Burrito and PurBlendz, has a new Italian street food restaurant in North York called Via Cibo.  The restaurant had its soft opening in June at their York Mills and Leslie location, with a Grand Opening scheduled for July 24th.  Having previously worked with Extreme Brandz on their other properties, Jump was engaged to realize the Via Cibo vision and design the restaurant space.  The concept has taken nearly two years to plan and develop.  Over the last year The Toronto Star followed Extreme Brandz CEO Alex Rechichi's quest to perfect the restaurant and menu, which is aimed at being a nationwide chain, publishing a profile in their Food & Wine Section last week.
Via Cibo is a new breed of restaurant, following a fast-casual service model.  It's a middle ground between sit-down dining and fast traditional quick service, which means casual service without wait staff and tipping but with fare you expect from fine dining.  The inspiration for Via Cibo comes from the slow-cooking, farm to table movement of the Emilia-Romagna region in Northern Italy.  Executive Chef Steven Rego has put together a menu of Italian classics, with almost all of what's on offer – including the meatballs, sausages and sauces – made from scratch, daily on-site.  Right in front of the customer's eyes, the chefs skillfully prepare time-honoured Italian dishes using only fresh, local ingredients.  The full menu includes amazing paninos, piadina flatbreads, pizzas, pastas, salads and more.  Also available are a selection of Italian beers, wines, sodas and coffee.
Ensuring the concept's passion and style was captured in the design, the interior mixes traditional materials with a modern, industrial style and open layout that offers a full view into the kitchen.  Design details include Carrara marble, walnut and chrome taps for the self-serve beverage station.  A collection of large-scale photomontages of Italian street life display on stylized stretched canvas.  Photographer Edward Pond followed the developers on their journey through Emilia Romagna's stories cities, capturing the sites on the streets that inspire the concept.  Drop-down architectural stainless steel lighting adds polish and intimacy to a central seating banquette, while bold, glossy red accent walls add a punch of colour. Specifications considered not only constraints of the current space but also ensure that the design can be easily duplicated as the brand looks at expansion.
Via Cibo proves that great food really needs no reservations.  A second location is set to open later this year in Calgary.   For more on the new restaurant, including details on the Grand Opening along with a look through the Grand Opening, check out their newly launched Jump designed and developed website.  You can also find them on Facebook, Twitter and Pinterest.