South St. Burger is Now Grilling on St. Clair West
11, Jul. 2013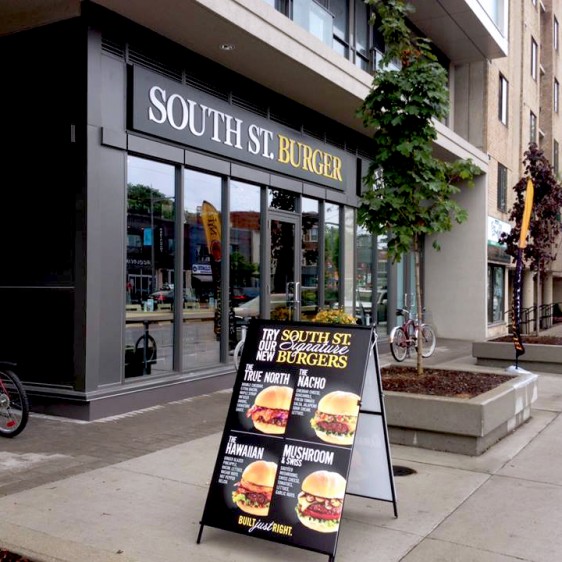 South St. Burger opened their latest Toronto location at St. Clair West and Rushton this past week.  This marks the brand's 22nd location, with 18 South St.'s currently operating in Ontario, 3 in Calgary and 1 in Dubai.  Since launching in 2005, South St. has been a leader in the fast-casual dining category.  Jump has been the agency of record since the inception of the South St. brand, working with them every step of the way in the design of each location and all the brand's consumer touchpoints.  With each store, we have looked for opportunities to boost the awareness, visibility and ingenuity of South St. and their philosophy to always "Be The Right Choice".
South St. is famous for their 'better burgers', made using 100% pure, fresh Angus beef patties containing no added hormones or antibiotics.  Delicious sides include fresh, famous New York Fries and a variety of NYF poutines, hand-made onion rings and milkshakes.  O'Dough's gluten-free buns are available for all burgers.  South St. also offers veggie and grilled chicken burger options along with premium all-beef hot dogs that contain no added hormones, antibiotics, sodium nitrates, fillers or by-products along with 35 gourmet condiment options.
For the first time, South St. Burger has also added a line-up of Signature Burgers to the menu.  After a highly successful trial at select locations, The True North, Hawaiian, Nacho and Mushroom & Swiss are now available at all South St. restaurants.
South St. keeps expanding, check online for the location closest to you and be on the lookout for future store openings.  For more on our work with South St., including an in-depth look at how Jump creates better restaurant spaces for their better burgers, check out our branding, environmental and sustainable design case studies for the brand.