Yogen Früz opens their first location in Amsterdam
22, Jul. 2013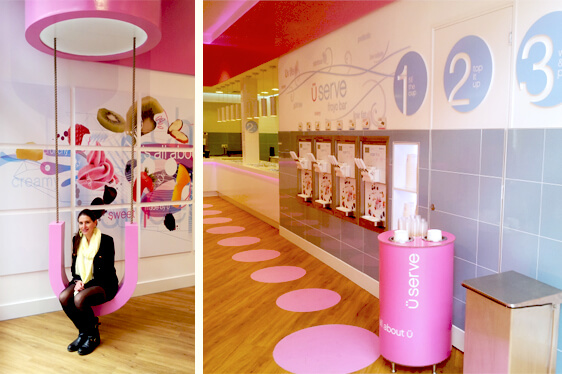 This past week Yogen Früz opened their first location in the Netherlands with a store in downtown Amsterdam.  The Markham, ON based company has franchised operations all over the globe, with more than 1,300 stores in 40 plus countries.  Jump worked with Yogen Früz to design an all-new healthy, premium brand communications strategy and contemporary retail image.  The result is a retail environment package that uses a light palette of premium finishes.  A colour scheme of white, soft pink and pale blue works alongside colourful product photography and a umlaut accented Ü in the redesigned logo to evoke a feeling of guilt-free healthiness.  The design tenets and brand standards we developed apply across all consumer touchpoints and continue to guide the construction and roll-out of each location.
Many Yogen Früz locations, including the new Amsterdam store, now feature Ü Serve self-serve froyo and toppings stations.  Guests are able to serve themselves in this weigh-and-pay format.  The Amsterdam store also features the first ever Ü Smile Swing!  Come in for a swing as you enjoy a cup of delicious froyo!
For a more in-depth look at how we lightened up and elevated Yogen Früz and their retail environments, treat yourself to our branding and environmental case studies on the project. And for even more on froyo, serve yourself to our work with Yogurty's.