Edition Richmond wins two BILD Awards including Project of the Year – Low-Rise
29, Apr. 2013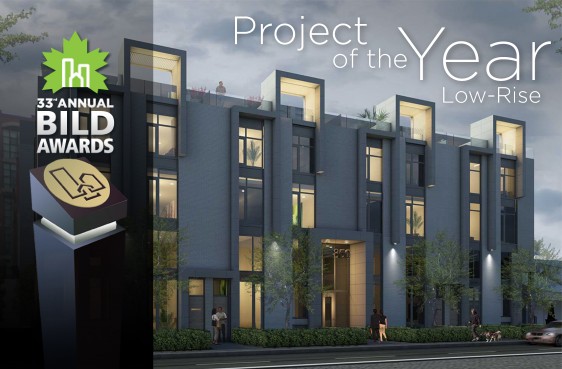 This past Friday, April 26th, the building and development industry celebrated the year's top projects in design, construction, sales and marketing at the 33rd annual BILD Awards.
Recognizing the GTA's best in categories ranging from ad campaigns to architectural design and community building, the Building Industry and Land Development (BILD) Association's annual award ceremony saw more than 1,000 entries this year.
Currently in construction, Edition Richmond offers twenty customized luxury residences in the heart of Queen West's Trinity Bellwoods neighbourhood. The unique stacked design is a testament to contemporary architecture. A resulting super-stylish, modern aesthetic offers a perfect juxtaposition to the surrounding cityscape, creating a luxury oasis that fits within the eclectic spirit of the area.
A finalist in six categories, Edition Richmond won two awards, picking up Best New Home Design – Semi-Detached or Townhome under 1,500 sq. ft. for the "Sky Loft Residence" suite model as well as Project of the Year – Low-Rise.
We are honoured to have been a part of the award-winning Curated Properties-led Edition Richmond project team. Working with Curated Properties, Jump created a branding program for the development that perfectly captures the chic modernity of Edition Richmond. The scope of our branding program included logo, stationary, showroom signage, project books, advertising and marketing materials. The deliverables balance the exclusive, clean, customized luxury of Edition Richmond with a Queen West approach.
We also collaborated with noted interior design firm Cecconi Simone and the project developer in the creation of the buzzed about Sales Centre that was fashioned from an on-site transmission shop and gained attention as a go-to venue for high-profile events last fall.
"The team at Jump was an integral part of the launch of Edition Richmond," comments Project Developer Adam Ochshorn. "Their creative approach and strategic vision enabled them to produce a branding program that differentiated us within the category".
For more on Jump's construction of the Edition Richmond brand, check out the project case study.