Jump tastes Silver in launching Keith's Original Cider
30, Apr. 2013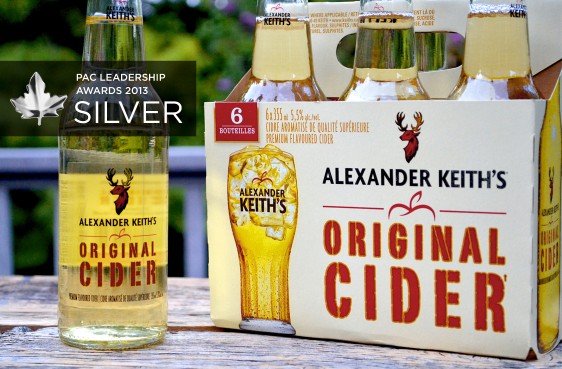 On Monday, April 22nd, Jump Branding & Design Inc. took home Silver Award honours at the PAC Leadership Awards for the packaging design of Alexander Keith's Original Cider. The project competed in the New Brand Launch – Food & Beverage category.
The PAC Leadership Awards, as presented by the Canadian Packaging Association, recognize excellence in packaging design from brand positioning, innovation, shelving strategy and target market benchmarks. The semi-annual gala brings together the top talent in the packaging industry.
This year's event was attended by our Strategic Director Jason Hemsworth, Creative Director Jerry Alfieri, and Senior Graphic Designer Richard Patmore, who was responsible for the award winning design. Jump also won Silver honours in 2011 for the ET TU Simply Add Fish dinner kits and picked up our first Gold Award at this year's ceremony for Cliplight Manufacturing.
Alexander Keith's Original Cider marks Labatt's first foray into the domestic cider market. After the success of our Kokanee Beer packaging redesign, Labatt's came to Jump in 2011 with the new product proposition.
The resulting light packaging design targets a young male demographic and dissociates this product from overly sweet ciders already in market. Rustic large-face block lettering highlights a masculine sensibility and gives Original Cider a deconstructed craft look. We designed the six-pack carrier with golden cider pouring into an ice-filled glass to demonstrate how to best enjoy this new offering and elevate the refreshment only cider offers.
Alexander Keith's Original Cider was rolled out to LCBO locations in April 2012. The response has been hugely positive with the brand capturing a key market share in the booming cider market.
The full list of PAC winners, including Original Cider and Cliplight Manufacturing, is available online. For more on the design and launch of Original Cider, take a sip from our case study of the packaging roll-out.