Jump takes Gold for Cliplight at the 2013 PAC Gala
29, Apr. 2013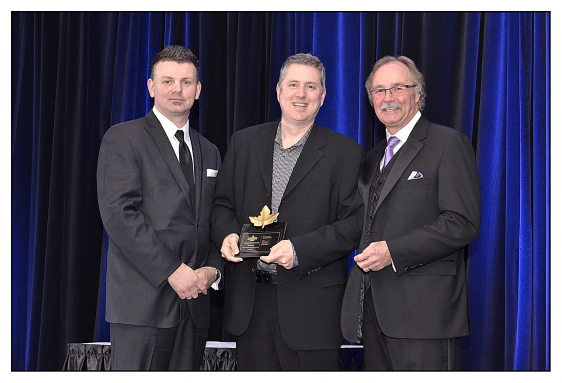 This past Monday, April 22nd, Jump Branding & Design Inc. received the prestigious PAC Leadership Gold Award for the packaging design of Cliplight Manufacturing. The project competed in the Brand Revitalization – Non-Food category having seen a complete overhaul of an existing packaging line-up.
Presented by the Canadian Packaging Association, the PAC Leadership Awards recognize excellence in packaging design from brand positioning, innovation, shelving strategy and target market benchmarks. Their semi-annual gala brings together the top talent in the industry.
This year's event was attended by our Strategic Director Jason Hemsworth, Creative Director Jerry Alfieri, and Senior Graphic Designer Richard Patmore. Jerry and Richard's collaborative efforts are responsible for the award-winning design. This marks the first time Jump has received Gold honours from PAC, having won the Silver Award twice.
The Cliplight brand is a global manufacturer of industry leading automotive, HVAC and OEM battery charger products. Cliplight retained Jump's services in 2012 to redesign their existing logo, packaging and marketing materials.
A matte black background and established hierarchy of communication served as the baseline for our redesign model. The new packaging roll-out follows a bold, masculine, industrial aesthetic. In emulating the advanced scientific chemical processes of the products, our design infuses performance-based messaging with subtle, suggestive imagery and vibrant, glossy coloured swooshes coded by product type. The refreshed design delivers a strong family approach and successful on-shelf brand blocking.
"Top marks to the team at Jump for the successful rebranding of Cliplight Manufacturing", comments Cliplight VP Howard Brass. "Jump took the time to develop a clear understanding of our categories and delivered a powerful packaging program that spoke to the premium nature of our product line".
With the redesign, Jump successfully delivered Cliplight an appropriately eye-catching extension of their products across all consumer touchpoints. The product line is enjoying great success since re-launching on the market with the new packaging line-up.
The full list of PAC Leadership Award winners is available online. Jump also won a Silver Award for Alexander Keith's Original Cider at this year's ceremony and previously took home a Silver Award at the 2011 gala for ET TU Simply Add Fish.
For more on our refresh of the Cliplight brand, zoom over to our project case study.