CHCH's Morning Live visits Elm Hill Cookies
19, Apr. 2013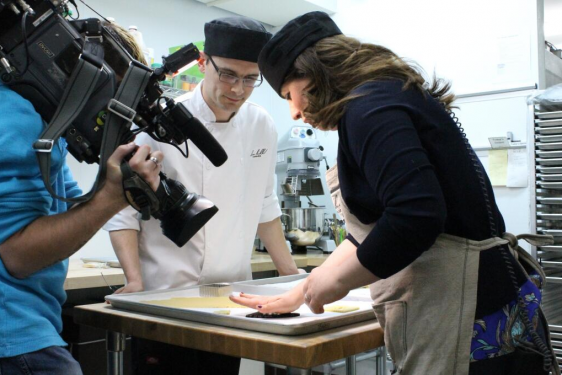 Image courtesy of Elm Hill Cookies Twitter Feed. 
CHCH's Morning Live Show paid a visit this week to Oakville's Elm Hill Cookies for a segment with owner Janis Smith where they discuss Janis's gourmet cookies, baking technique and the interior of her Jump-designed boutique shop.
Elm Hill only sells cookies, offering 25-35 gourmet varieties daily. The bakery's 'No Corners Cut' philosophy is reflected not only in the unique square shape of the cookies but also in their top-quality, all-natural ingredients. Elm Hill uses no artificial flavours or preservatives, even making their own plant-based food colouring.
We worked closely with Janis to create her vision of the brand. From a shop interior that mixes modern and heritage elements, to eco-friendly understated packaging, everything about the Elm Hill experience is tastefully gourmet. During her visit CHCH correspondent Lori De Angelis even comments on the warmth of the shop and the instant happiness you feel when you walk inside.
Since opening on Kerr Street in December 2010 the shop has been a huge success, garnering a loyal following and even featuring on the last season of The Bachelor Canada. Check out the link to the CHCH 'Satisfy Your Cookie Monster' segment for a closer look inside the bakery. At the 3:30 mark hear Janis discuss how her shop came together.
Or take an even bigger bite out of Elm Hill Cookies with our branding design case study on this project.