Instagram launches 15-second video sharing feature
21, Jun. 2013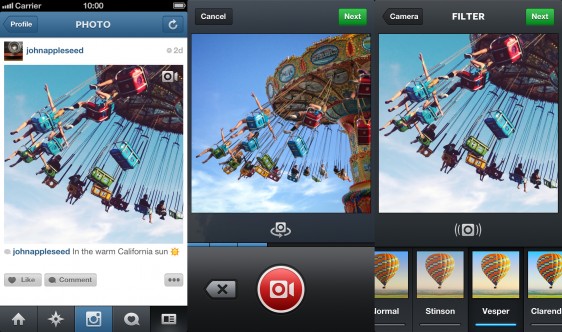 Image courtesy of Instagram
Instagram – the Facebook owned online photo-sharing and social-networking service – announced yesterday the integration of a new video function.  When you go to take a photo on the app, you will now see a movie camera icon that you tap to enter video mode.  The feature allows users to take up to 15 seconds of video, add one of thirteen filters built specifically for video and edit clips that you can upload directly to your account and Facebook feed.
The video mode offers an exciting new way to share content with your friends and followers.  It also puts Instagram directly in competition with the Twitter-owned Vine, though there are some key differences.  Vine has a shorter clip time, only 6 seconds long, and automatic looping.  As well, Instagram video offers a 'cinema' mode that stabilizes the camera to make footage smoother.  It should be exciting to see how companies and users react to this news and what kind of content people come up with.  Instagram already has 130 million active users and the addition of video functionality should generate even more popularity.
You can find us on Instagram at @JumpBranding.  While we haven't uploaded any videos yet, we can't wait to try our hands at the video feature.  Right now though,  you can get a peak into our latest retail and restaurant projects and get a first look at our logo, packaging and web designs as they're launched on our official Instagram feed.  Find some inspiration and let us know what you think of our work – we hope to connect with you soon!
Jump is also active on Twitter, Facebook, LinkedIn, Pinterest, Youtube and Flickr.