Jump imagines a new craft beer exploration series for Creemore Springs Brewery! Imagination never tasted so good!
19, Jun. 2013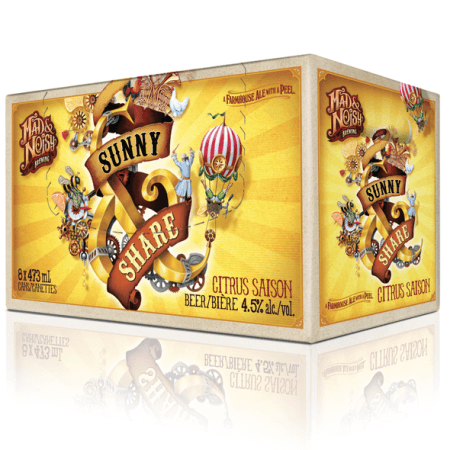 Ontario's Creemore Springs Brewery has unveiled a new craft beer exploration series by Mad & Noisy Brewing.  The offshoot brewery is named after the Mad & Noisy Rivers, which collide in the village of Creemore, and has produced two highly imaginative concoctions – Hops & Bolts and Sunny & Share.
Not for the faint of hops, Hops & Bolts is a Czech twist on traditional India Pale Lager. Bolting together the best components of a lager and an ale, the result is an intriguingly bitter, yet malty, rivetingly hopped up brew.  Left unfiltered and constructed with 5-palate crushing hops, it's built with a pithy grapefruit bitterness on a foundation of sweet caramel malt underpinned with notes of chocolate and nut.
A farmhouse ale with a peel, Sunny & Share imagines the Belgian tradition of a farmhouse ale and collaborates it harmoniously with the citrus tones of lemon and orange.  An intriguing orchestration of malt, hops, and citrus peel that crescendos with a hint of clove, Sunny & Share is a light, refreshing and crisp tasting 4.5% alcohol beer perfect for sharing and pairing.
The Mad & Noisy Series received a great response on tap at Toronto's Beer Academy and select establishments across Southern Ontario earlier this year.  Jump was engaged by Cleansheet Communications, Creemore Springs Brewery's agency of record, to bring the retail packaging for Mad & Noisy Brewing to life.  Jump worked closely with Creemore Springs Brewery, Cleansheet, Master Packaging ASL and Crown and Metal Packaging to achieve a very complex illustration across a wide spectrum of packaging formats.
Mad & Noisy Beers are like what happens at the brewery at night right after everyone has gone home and the brewmasters let their imaginations run wild.  The packaging is designed with a Barnum & Bailey meets steampunk style.  Key illustration elements take their cues from the beers' quirky style while strong packaging colours aid in shelf blocking.  The hierarchy of the design establishes a consistent, recognizable structure.
The Hops & Bolts artwork features a ringmaster who conducts a scene of fired-up hoppy flavours bolting together.  Mechanical dragons breathing fire into a bursting keg, a giant ape and a barrel of hops taking off construct the scene that feels a bit mad, and creates an imaginative, illustrative brand personality.  Bold hues of red compliment the style and give Hops & Bolts strong shelf standout.  For Sunny & Share, as a Citrus Saison, hues of bright yellow serve as the baseline for the packaging designs. A conductor orchestrates the citrus tones of lemon and orange, farmhouse inspirations and lightness of the beer into a refreshing, crisp taste.
Creemore Springs has a long-standing tradition of brewing in small batches using an open flame copper kettle, fresh spring water and the finest ingredients.  Mad & Noisy beers are brewed without the use of additives, preservatives, and pasteurization.
Hops & Bolts will be available in 473 mL cans at select LCBO and Beer Store locations, and 341 mL 6-packs in B.C. and Alberta.  625 mL bottles will be available in Creemore, The Beer Academy in Toronto and on tap.  Sunny & Share will be available in 625 mL bottles in Creemore, at The Beer Academy and at select bars and restaurants.  Cans will also be available at select Beer Store locations across Ontario and on draught in Quebec.
For more on the Mad & Noisy Brewing Series, check out Creemore Springs online.
Still thirsty?  Be sure to take a sip of our Alexander Keith's Original Cider Packaging Design.