Jump celebrates with South St. Burger Co. in the Grand Opening of their Pickering location
14, Dec. 2012
Left to Right: Jump's Creative Director Jerry Alfieri, President Eric Boulden and Strategic Director Jason Hemsworth
There's nothing quite like a burger made really, really well.
Jump was on-hand yesterday for the Grand Opening ceremony for South St. Burger Co.'s first Pickering location, and what a ceremony it turned out to be! The day included an official ribbon cutting presided over by Pickering Mayor Dave Ryan, who was joined in the honours by a number of his Council Members and South St. and New York Fries President Jay Gould. The Mayor also presented Mr. Gould and South St. with a welcome certificate from the city of Pickering to mark the opening of the location.
Jump has worked with South St. Burger Co. from the beginning in the design and evolution of the better burger brand. South St. currently operates 16 locations in the Greater Toronto Area, 3 in Calgary and 1 in Dubai.
The Pickering opening caps off a terrific year for the fast-casual chain, which included the opening of their first overseas location, a Green Leadership Award from Food Service + Hospitality and the A.R.E. Sustainable Project of the Year Award for Jump's design of their Bayview Village location.
A big congratulation to South St. on the success of the day! Be on the lookout for new locations to pop up throughout 2013 as the brand continues its upward growth. The Pickering location at 1105 Kingston Road in Brookdale Centre is open from 11-9 Sun-Wed and 11-10 Thu-Sat.
Looking to bite into more from South St.? Learn all about our design and development of their LEED-certified Bayview Village location and the opening of their Dubai location.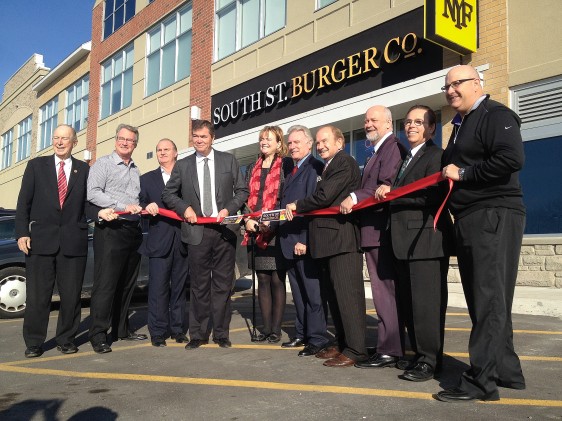 Mayor Dave Ryan (Centre) alongside South St. Burger Co. President Jay Gould and Pickering City Council members.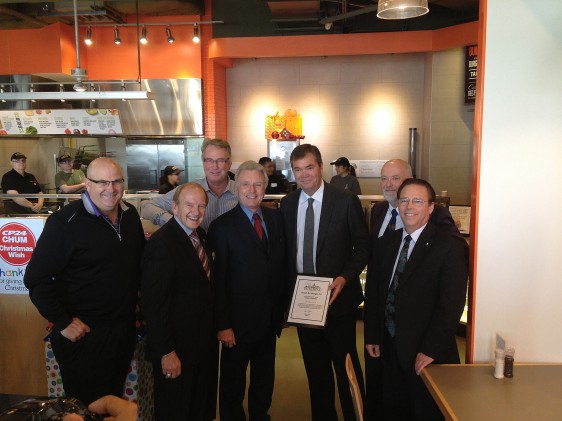 Mayor Dave Ryan presents South St. Burger Co. President Jay Gould with a special Pickering welcome certificate to commemorate the occasion