Jump makes the cover of Canadian Builders Quarterly
05, Dec. 2012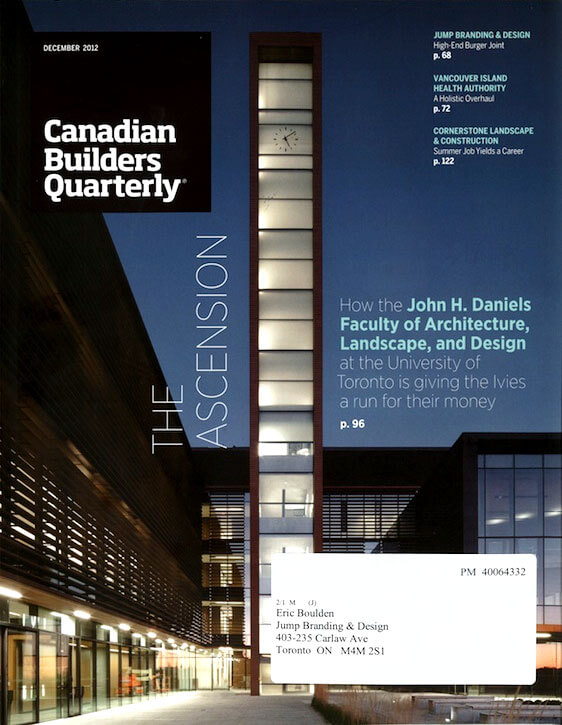 The latest issue of Canadian Builders Quarterly, with a special mention on the top right-hand corner.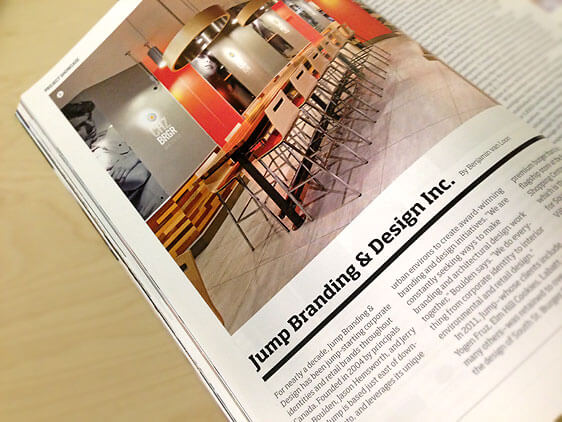 When the latest issue of Canadian Builders Quarterly arrived this week, we were thrilled to find a profile of Jump's work with South St. Burger Co. Bayview Village – with the added treat of a shout out to Jump on the front-cover.
Canadian Builders Quarterly (CBQ) offers a prime source for industry-insiders looking to keep up on trends, innovations, and practices in the Canadian design and construction industry. Bringing the latest news and in-depth profiles on noteworthy projects, the publication has become an essential guide for builders, contractors, designers and architects.
Since opening just over a year ago, South St. Burger Co. Bayview Village has continued to make headlines for its innovative and sustainable design – recently becoming the first burger-chain location in Ontario and only Bayview Village tenant to receive LEED-Certification. This latest profile caps off a great year for Jump and the South St. project, which included winning the A.R.E. Sustainability Award for Project of the Year.
The full profile, High-End Burger Joint, featuring project in-sight from Jump President Eric Boulden, is now available on the CBQ website. You can also bite into more of our design process on our website with the detailed case study for  South St. Burger Co. Bayview Village, as well as our similarly sustainably-minded environmental terra20 design.