Jump rebrands AIG to the newly envisioned Canada Guaranty, reflecting the values of "Financial Strength and Service Excellence".
23, Apr. 2010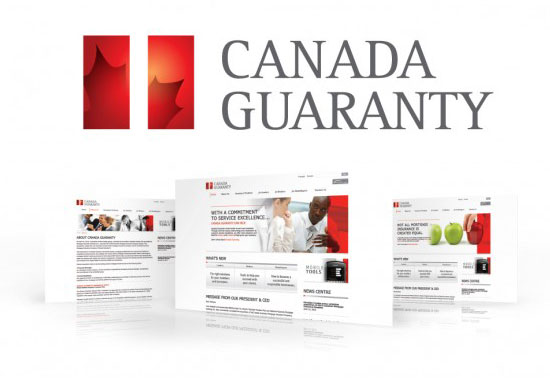 Canada Guaranty is a new Canadian-owned private mortgage insurance company that was formed by a private investor group, comprised of the Ontario Teachers' Pension Plan and National Mortgage Guaranty Holdings Inc., that acquired AIG United Guaranty Mortgage Insurance Company Canada. Their business model is designed to target lenders and brokers, offering them competitive insurance products with a commitment to superior customer service.
Canada Guaranty came to Jump with the vision to be the leading private mortgage insurer. They were looking for an identity that reflected the company's pillars of financial strength and service excellence. To distance themselves from the unstable U.S. mortgage industry, the mandate also included conveying that the ownership of Canada Guaranty is 100% Canadian. The final logo features an expression of the Canadian flag with a subtle maple leaf spanning two vertical red columns. These columns are a representation of the two founding pillars and the glow within gives the identity a warmth and approachability. The upper case serif font brings an sense of stability to the logo, a quality that is so important for success in this industry.
After establishing the new moniker for Canada Guaranty, Jump deepened the brand identity through the development of clean and professional website complete with a mobile component that allows users to navigate their products from their handheld device. The site features a wealth of information broken into channels for the lenders, brokers and home buyers. In preparation of the public announcement of Canada Guaranty on Apr.16th, Jump also developed the corporate stationery, marketing material, digital templates, news templates as well as the signage for the office reception area.
"Full marks to the Jump team as they delivered throughout the process and kept their word on deliverables and budget. They were a great team to work with throughout the process" said Brian Bell, VP of Marketing at Canada Guaranty.
Feeling Corporate? If so, check out other Case Studies under our Corporate Identity Design page.