Jump wins Grand Prize – Sustainability for the design of terra20 from A.R.E.
17, Apr. 2013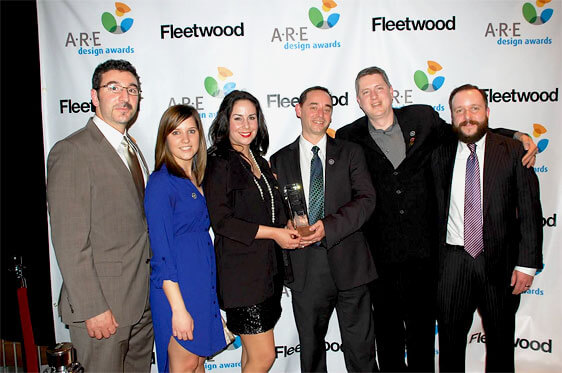 On April 16th, in Chicago, Jump Branding & Design Inc, captured the A.R.E. (Association for Retail Environments) Grand Prize – Sustainability Award for the design of terra20 in Ottawa's Pinecrest Shopping Centre.
The A.R.E. Sustainability Awards is the only competition focused on sustainable retail design, honouring retail projects for outstanding green building achievement. The competition draws entries from around the world. Entries are judged on innovation in design, integration, and benchmarks, and the highest honours go to projects that balance comprehensive sustainability with design aesthetic and functionality. Winning projects can be found in multiple countries throughout Europe, Asia, North America and Africa. This year's winning teams beat out the highest number of entries ever to take home a total of 72 awards in 23 categories.
Jump has been the design agency of record since the inception of the terra20 concept, among other high-profile Canadian and international brands. This is the second consecutive year Jump has taken home the Grand Prize – Sustainability from A.R.E., winning last year for the LEED-certified design of South St. Burger Co. Bayview Village, which also yielded Project of the Year honours.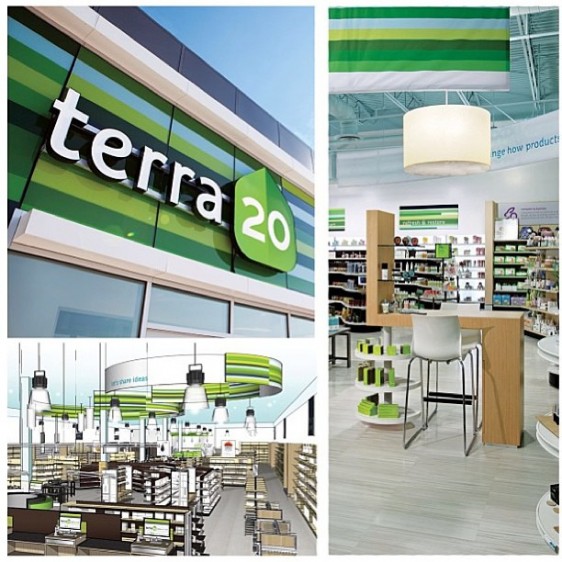 A holistic approach to sustainable design
terra20 is North America's largest one-stop eco store. As the premiere destination for all things sustainable and environmentally friendly, the retailer carries 12,000 products across a full range of lifestyle categories in a modern, comfortable environment. For the design of their 17,000 sq. ft. prototype location in Ottawa's Pinecrest Centre, terra20 needed to translate their vision of making healthy sustainable living choices accessible to the mainstream into an architectural reality.
From the shelves to what's on them, this project fulfills the retailer's mission to encourage a healthier, sustainable lifestyle. Built to LEED standards, it tells stories that resonate with LOHAS and eco-curious shoppers alike, such as the cashwrap made of logs from the bottom of the Ottawa River. Material selection considered not only sustainable attributes, but also vendor practices. A Green Council of local experts vet store products, and signage invites shoppers to weigh in and influence what gets put on the shelves. Custom icons explain product attributes at the shelf level while interactive iPad displays provide deeper product information. A banned list shows what ingredients won't be found in-store, and the retailer even convinced one manufacturer to change a product formula to make the cut.
An ecobar dispenses natural cleaning products, which have been mixed on-site, into refillable containers. The fixtures capture overflow for cleaning the store. In addition to extensive glazing, the storefront features a thermal curtain wall with signature colour banding. The technology allows light to filter through during the day and makes a brand statement with a glow from interior lighting at night. The finished space perfectly aligns with the defining terra20 vision of credibility, community and convenience and provides a thoughtful, environmentally-friendly experience accessible to the mass market.
The full  A.R.E. 2013 Design Award Winners list is available here.