Trends in Retail – Daylighting
28, Mar. 2013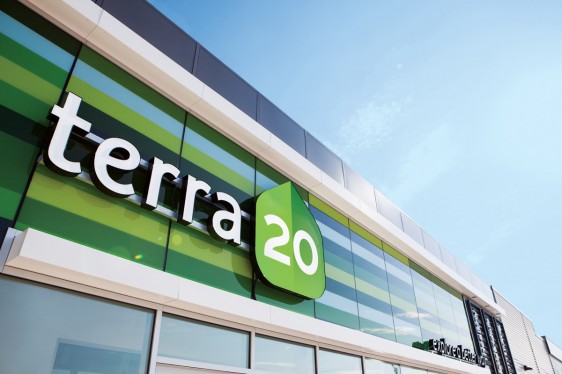 In design and construction, daylighting is the practice of maximizing the natural lighting power of sunlight. Not only does this reduce energy use in-store, it also welcomes a natural light into the space, creating a brighter, airier shopping experience and a connectedness between indoor and outdoor environments. We recently incorporated daylighting practices into the design of terra20, North America's largest one-stop eco store. The entire storefront has been composed of a glazed banded curtain wall, allowing filtered light to enter the space. This transparency is set to decrease the location's environmental footprint and has created an instantly recognizable brand identifier that aligns with the brand's eco-messaging.
Traditional designs of large stores feature almost no windows. Recently though this has begun to change with retailers including Macy's and Bergdorf Goodman experimenting with daylighting techniques in their flagship locations. Among the advantages of bringing natural light into a store, as outlined in VMSD's Special Report "Balance Beam: How Retail is Embracing Natural Light", is the effect on store visitors. Natural light tends to increase the good feelings customers have towards a store, not only by providing a connection to the outside but by allowing them to see the true colours of the merchandise they're buying. Windows can also serve as landmarks to help shoppers orient themselves on the floor, especially in large departments stores.
Daylighting may seem like a simple concept, however, many factors have to be taken into account. Among them are changing weather conditions, shadows, night skies, heat loss and gain, glare control, and the building's climate and location. Any successful daylighting set-up must counter these variables, therefore it is important to merchandise and light the interior to optimize the daylighting effect. Techniques include maintaining a healthy distance between the products and windows or lighting window-displays brighter so their illumination doesn't change when the external light does. No matter how it is employed, daylighting is a great way to increase in-store satisfaction and create an environment that displays products at their very best.
For more on terra20, including a full overview of all the green design practices incorporated into their prototype location, check out our retail design case study.