Unit Design: The Color Of Money
03, Jan. 2011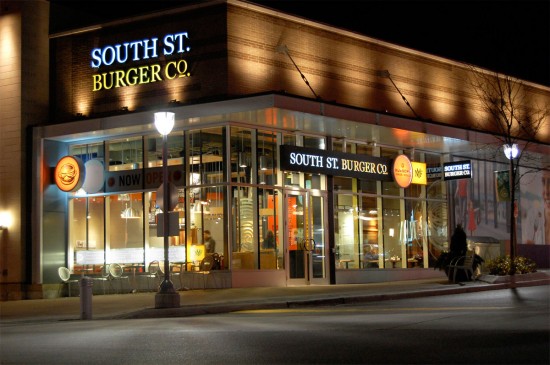 Spec'ing sustainable equipment helps South St. Burger Co. follow its 'Be the Right Choice' motto—and greens the bottom line, too.
By: Janice Cha
You could call it evolution. Or revolution. Or maybe even revelation. Whatever the term, South St. Burger Co.'s adherence to sustainable operations has been part of the plan since the 14-unit Toronto chain opened its first premium burger and fries eatery five years ago. And it's a plan that grows a little more with each new store.
"We try to apply that to all facets of the business, from oil and food products to equipment and furnishings," says Jay Gould, president. And while it's true the payback on some sustainability items can be slow, Gould focuses on the long haul, and he says the payback is there. "You have to expect to be in business for a while," he notes.
And he does. His first concept—the 160-unit New York Fries brand—is approaching its 27th anniversary and going strong. And for its part, South St. is going strong too, currently generating average unit volumes of $875,000 (U.S.). The 14th unit, whose contract was inked on the day Gould and his team spoke with FER, will open later this year in Oakville, Ontario.
Meet South St. Burger Co.
The South St. Burger Co. concept was developed as an offshoot of New York Fries, a premium quick-service restaurant specializing in one central menu item done really well. And when it came time to get South St. up and running, Gould and Project Manager Smiley Cheung called on Eric Boulden, president and principal of Toronto-based Jump Branding & Design, which had worked on New York Fries as well.
"Jump handled all aspects of the South St. Burger Co. design, its brand logo, look, layout and even menu development," says Gould, who also gives credit to Jump team members Strategic Director and Principal Jason Hemsworth, Creative Director and Principal Jerry Alfieri, Environmental Designer Melissa Zurfluh and Graphic Designer Richard Patmore.
South St.'s equipment demands are (relatively) simple. The restaurants turns out nearly all menu items in full view of guests with the use of a charbroiler, a bank of fryers and a salad-bar style display of burger toppings.
"Four menu panels, one each for proteins, combos, sides and drinks, make it easy [and fast] for guests to decide their orders," Boulden says. "We try to be speedy at the cashier station so customers can take time during the build process." As customers move down the line, they're asked to choose from about 25 gourmet toppings and condiments arrayed in a salad bar-style unit. A 42″ flat-screen TV on the wall near the serving line helps time pass quickly.
Sure, the process takes longer than other quick-service burger shops, but "most people accept the five- to six-minute wait as part of getting what they want," Gould says. "When your burger is completed, you know it's exactly what you wanted."
The South St. Burger Co. interior features a contemporary, urban New York loft-style feel. Exposed beams, columns, polished concrete and glass are balanced by warm, light maple wood shaped into the flowing curves of the signature seating. Blocks of bright colors and lighting highlight key areas. "Brand humor" signs create personality and discussion within the restaurant. Reclaimed wood adds character to the front counter and serving lines in newer stores; in others, backlit etched glass-style panels highlight SSBC restaurant reviews.
A typical store covers about 2,000 sq. ft. with seating for 40.
Green Equipment
South St. Burger Co.'s commitment to "be the right choice" informs specs for everything from back- to front-of-house. What's more, when the company finds green elements that work especially well—such as the heat-exchange hood or LED lighting—they're incorporated into future store designs and where possible, retrofitted into existing stores.
"Our motives [for using so much sustainable technology] are twofold," Gould says. "On one hand, this is a business and we want to save money. At the same time, we're marketing our initiatives to customers, letting them know that we're a responsible corporate entity as well as a good restaurant."
Environmentally friendly back-of-house equipment at South St. Burger Co. stores includes a heat-exchange hood system, air-cooled ice machines, high-efficiency gas fryers and solar technology for water heating and electricity.
The hood and its heat-capture system for warming make-up air works well for restaurants in cold northern climates. The system, now installed in 10 South St. stores, was developed by a Canadian company called Martin Air, which was recently been acquired by Halton.
"A typical store uses two exhaust hoods, each pulling out more than 5,000 cfm of hot air," Cheung says. The heat-exchange system takes the place of a rooftop gas-fired heating unit that uses 350,000 Btu/hr. Heat-transfer takes place when hot air from the charbroiler or fryer flues warms liquid glycol. The now-hot glycol, circulating through tubes running in a closed loop between flue and make-up air intake area, in turn warms cold incoming air and thus eliminates the need for a gas-fired preheating unit.
The system also uses a temperature-controlled variable-speed fan that reduces exhaust fan speeds during slow periods to boost energy efficiency.
The initial adjustment was tricky—there's an art to achieving the ideal balance between fan speed, smoke extraction, and fan motor noise and vibration. Once it's set, "no unusual maintenance is required," Cheung says.
The cost of the exhaust fan and makeup air system is about double that of a traditional unit. "Our estimated annual savings from not paying for a heated make-up air system for the kitchen, based on 12 hours of daily operation and an energy cost of $0.50/m3 natural gas, is about $4,700 per year," Cheung adds. So payback on this item is a lengthy seven years—but ventilation is a long term item, and after the payback is all good.
In the all-important fryer department, South St. Burger Co. relies on a bank of four high-efficiency units. "These new fryers use only 80,000 Btu/hour to generate the same heat performance as our previous standard model that would use 110,000 Btu/hour," Cheung says. "That works out to savings of about 120,000 Btu/hour of operation for the four units, which in turn translates to an annual reduction of 41,400 lbs. (18.6 tons) of CO2 emission per store." Not to mention the savings on the energy.
Considerable water savings, to the tune of about 264,000 gals./yr., come from the company's use of air-cooled instead of water-cooled ice machines. Water-cooled units require about 137 gals. to cool the compressor for every 100 lbs. of ice made, Cheung explains. By contrast, air-cooled units rely on a fan whose incremental energy cost-per-year is about $200. "We're saving the cost of all that water that otherwise would literally run down the drain," Cheung says.
Solar-generated electricity and hot water are a recent move by SSBC planners—but so far, use of solar technology tends to be constrained by landlord cooperation. Currently only one restaurant is testing solar hot water heating while another is testing photovoltaic panels.
"Part of the problem is that landlords don't reap any of the benefit of the extra costs that come with installing solar panels," Gould says. "It's the retailer that gets all the glory."
South St. Burger Co. installed a solar thermal water heating system at its Barrie, Ontario, location. The system includes an overall collector area of about 87 sq. ft. Solar-heated hot water is collected in an 80-gal. tank, which provides pre-heated water to the store's main hot water tank for kitchen and general use. The system's capital cost is $9,300 and has an expected three-and-a-half year payback time. Again, payback is not quick, but the benefit is there long term.

Meanwhile, solar photovoltaic panels have been installed at the Markham, Ontario store. The system includes 10 panels, 215-W each, that each (or collectively?) contribute 2 kw of electricity directly into the power distribution grid.
Sustainable FOH Elements
Front-of-house green elements include LED lighting, Bullfrog Power and more.
For starters, LED lights supply about half of the stores' lighting needs, and save about 4,400 kWh per store annually.
The company buys electricity from Bullfrog Power (which generates electricity from renewable sources such as wind power) for six of its stores. The choice costs the company a premium of 3 cents/kwh above regular hydro billing, but "It's our way of supporting the production of clean, renewable power in Ontario," Gould says.
"We also deploy occupancy-sensor light switches in public washrooms, low-flow toilets, low-flow pre-rinse spray valves, automatic sensor urinals, light dimmer switches, programmable thermostats, LED lamps in all outdoor signage, recyclable waste management and used cooking-oil management," adds Cheung, ticking off the many sustainable aspects used daily in South St. Burger Co. restaurants.
The use of epoxy coated concrete flooring—instead of tile or carpeting—eliminates the addition of another layer of flooring material.
Many of the sustainable elements are being retrofitted into older stores. "Our second—and busiest—store is probably in line for a heat-exchange hood system," Gould says. "We've just added LED lights to that store, plus ceiling fans to help pull heat down from the ceiling. Where possible, we're adding vestibules or partitions to help keep warm air inside the stores during winter."
Looking Ahead
Five years down the road, Gould expects to be operating some 50 South St. Burger Co. stores, each of them a notch greener than the previous one.
"It's been an evolutionary process," Gould says. "So far what we've done, apart from being responsible citizens, has not been as painful as it might seem. Our [energy efficient] investments are paying for themselves, and they do have a place in our business, along with the 'feel good' side our customers appreciate.
"Hopefully equipment manufacturers will continue to innovate," Gould adds. "We'll be there to take on whatever they've got."
FACT BOX
MENU/SEGMENT:
Premium gourmet burgers and fries
UNIT VOLUME: $875,000
SIZE: 1,800-2,500 sq. ft.
SEATS: 40-60 seats
MEALS/DAY: 350
FF&E PACKAGE: $245,000
UNITS: 13
PLANS: 5 openings in 2011
DESIGN: Jump Branding & Design, Toronto
FOR MORE INFO: www.southstburger.com
Source: www.fermag.com