Environmental Design
In a retail environment, the atmosphere created should drive the consumer to do more than interact with your brand; it should compel them to become an ambassador of it.
We create retail spaces with the consumer in mind, designing towards a target demographic in order to increase customer retention and market share. Identifying key consumer strike zones, creating wayfinding systems to simplify the consumer experience, applying purposeful brand signage, as well as using consistent and appropriate materials all work together to build brand equity in your environment.
In either an office or retail space, your environment is another extension of your brand, and should be developed with your brand attributes in mind. Let us work with you to develop your environment to successfully bolster your brand at another key consumer touchpoint.
Jump & Sustainable Design
Environmental spaces must be more than visually appealing, they must be designed and operate with a conscience. For every project, Jump looks to uncover possibilities in sustainable design without ever sacrificing aesthetic.
our latest environmental design project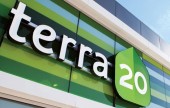 terra20
Jump creates a retail space for the largest home of eco-friendly products in Canada terra20 is North America's largest one-stop eco store, offering 12,000 eco-products …