Web Design and Development
With the growing number of consumers using the internet to seek information that will influence purchasing decisions, you want your website to align with the rest of your corporate communications. Your site should consistently deliver the experience that your customers have grown to expect from your company, both visually and functionally. Your website will speak to a potential customer who has sought you out to reinforce what they already know about your company and expand on that information in an environment that they can control. Visually, your branded website should use dynamic, engaging, well-designed elements to create a comfortable environment that extends the attributes of your brand. Functionally, your site should serve up sought-after information in an intuitive, logical order, staying one step ahead of your consumer while allowing them full control.
Jump excels in both web design and development. Our website design department are designers first, creating online experiences that are visually engaging, well-designed extensions of our clients' brands. On the back-end, our development team uses the latest technologies to create websites that comply with web standards in order to increase accessibility to the maximum number of users and deliver significant search engine rankings.
We challenge you to explore the web with fresh eyes, analyzing both your current site and the sites you frequent with this new brand perspective in mind, to determine whether these sites meet the expectations that their associated brand has created in your mind.
our latest web design & development project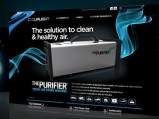 Cliplight
Coming soon… Visit Cliplight online.